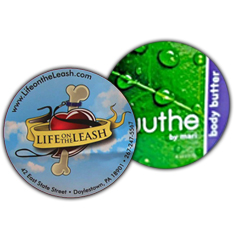 Product Description
It's been said that good things come in small packages, and 1.25 round labels are no exception. Smaller-sized labels can still pack a big punch, and thanks to Lightning Labels, they are 100% customizable.
It's time to literally think outside the box. Circular labels can add some extra flair to an otherwise boring bottle, tin, jar or other container. Whether your label needs stem from business or otherwise, opting for a lesser size lets you make your point without extra fuss because there's just no room for it.
Using 1.25 Round Stickers to Make an Impact
Lightning Labels delivers unmatched benefits and value, including:
Free ground shipping in the U.S. and Canada*
24-48 hour turnaround**
No set-up fees, no plate fees, and no added fees for unlimited color!
Free printed press proofs*** for all custom labels and sticker orders, in addition to PDF files
100% satisfaction guaranteed!
Creativity is necessary if you want your 1.25 round stickers to make an impact. Use the smaller surface to get to the heart of your message, no frilly words required.
Smaller stickers are great to hand out at corporate events when trying to get your business' name out there. Stickers are also fun to offer at parties, especially to kids. Affix them to water bottles, mason jars or tins for a personal, unique touch that will ensure your name or your business' name is remembered.
With Lightning Labels, you have total freedom in designing your labels and stickers. Why not have some fun? Not everything has to have perfect 90-degree edges. Mix it up with some circular designs so your stickers are more interesting to both you and whomever you give them to.
Call Lightning Labels to Design Customized 1.25 Inch Round Labels and Stickers!
Lightning Labels' custom 1.25 inch round labels and stickers can be made using a variety of high-quality materials, including:
White, clear and silver BOPP (a Polypropylene material)
Earth-friendly PLA
Textured and squeeze-friendly materials
And more!
In addition, further customization may include variety of finishes, sizes and shapes, including rectangle, square, oval and circle.
Free Stickers and Labels Sample Pack
Lightning Labels offers full-color digital printing. Check out our custom label samples and sticker proofs for quality assurance and design ideas.
Click here to request your free sample
Lightning Labels has been servicing the printing needs of our customers for more than 10 years. We are extremely proud of our BBB rating (A+) and guarantee your experience with us will be a positive one.
Call us at 888-907-3004 today to place your custom 1.25 inch round label and sticker order and watch sales skyrocket!
*on regular priced orders **following proof approval ***shipping charges apply