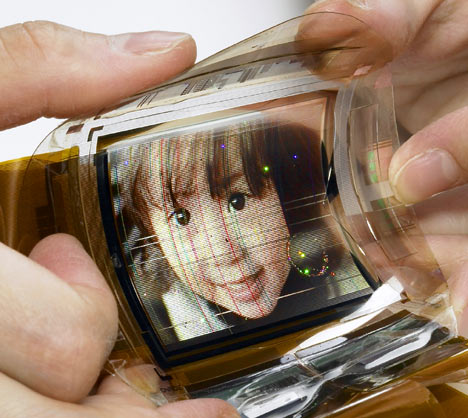 Last week Sony announced that it has invented a flexible plastic display that bends like paper while showing full color video. Even though we are years away from this becoming a commercial product, it is truly an amazing breakthrough. You can see the video released by Sony (in Japanese) on YouTube.
The screen is a 2.5" display and amazingly only 0.3mm thick (about 0.01") and the video seems to be very high quality. You can easily see this leading to ever thinner cell phones, video iPods and other similar applications.
I also see the day in the not too distant future where you will be browsing the supermarket shelves and the "product labels" will actually be a TV screen on this kind of material. Right now, if you order product labels on our white BOPP with a gloss laminate then your labels are 0.0036" thick, slightly less than half the thickness of the plastic TV screen. So you can see that adding some adhesive to this plastic display and including a power source such as the paper batteries that are just around the corner, and you have a viable new kind of "product label" - the ultimate product sales tool.
Now, we have a lot of obstacles to overcome before this day arrives, but you can be sure this day will come and I expect to start seeing these on the shelves within 10 years. Of course, these "video labels" will be expensive but I also imagine a recycling program that will offset the cost to the consumer. You might spend $2 more for a product with the video label, but then you could send the label back to the manufacturer for a $1 coupon or something like that.
Here at Lightning Labels we like to be on the cutting edge of digital label technology. So even though these video labels are a long way off, when they become commercially available for product labels, we will be at the forefront.