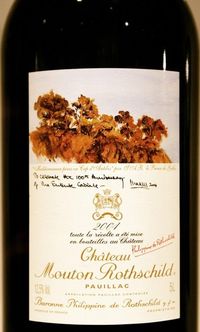 I thought we should end the year with something fun. Château Mouton Rothschild is acknowledged as the world's greatest Bordeaux but what interests me most about them are their labels. Every year they commission a famous artist or sculptor to create an illustration for their wine labels. The painting featured on their 2004 (the latest vintage) was actually done by Prince Charles. Other famous names such as Picasso, Andy Warhol and Salvador Dali have all had their work printed on these wine labels.
Recently I stumbled across this website that displays the entire collection of labels produced for Château Mouton Rothschild dating back to 1946. It is interesting to see how the styles and colors have changed through the years. Many of these labels have become real collectors items.
If you are lucky enough to bring in the New Year with a bottle of Château Mouton Rothschild (the 2004 retails for around $300) then 2008 was probably a good year for you.
Happy New Year.