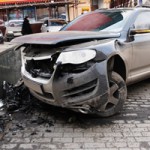 Custom Car Stickers May Help First Responders
Mercedes-Benz recently developed custom car stickers with a digital element to make it easier for emergency workers to understand vehicle features in case of an accident. The automobile manufacturer created QR codes with the vehicle's information to aid first responders in rescuing individuals from the car.
The QR codes include car elements that can help emergency workers determine the best plan of action. Mercedes-Benz reports the QR codes contain the location of the battery, gas tanks and electric cables, as well as others.
Emergency Workers Can Receive Information From Small Custom Stickers
According to BBC News, the small custom stickers can significantly decrease the amount of time between first responders arriving at a crash site and rescuing individuals from their damaged vehicles.
Continue reading