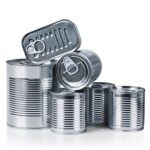 Hand- or Machine-Applied, Labeling Matters
Does your business apply product labels by hand or use machine application? That decision was likely made for you by the scale of your organization and the nature of your products. No matter which method you employ, that choice will likely have effects on the kinds of labeling materials you choose. Fortunately for businesses that are scaling up from hand production to machine labeling, Lightning Labels' custom product labels are largely compatible with either method.
Below are some of the differences between manual and mechanical application, and the ways high-quality custom labels can help your organization no matter which one you've chosen.
Continue reading