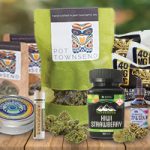 The legalized cannabis industry is booming, and your role in it could be largely determined by the quality of your cannabis labels. In order to be a strong competitor in both the recreational and medical marijuana markets, you must not only make sure your labels are accurate, but distinct and attractive as well.
How Your Cannabis Product Labels Influence Consumers
Did you know that most people only have an 8-second attention span, according to a study referenced in the New York Times? That means you only have about 8 seconds to not only make a great first impression, but to convince a consumer to purchase your product.
Continue reading