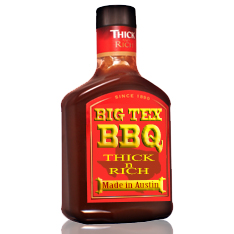 Product Description
Barbecuing can get messy sometimes. And when grill masters get sauce on their hands - which they undoubtedly will - product makers will need durable labels to keep their bottles looking nice and label information intact. Manufacturers looking for barbecue sauce labels that can stand the outdoor elements and some rough use need not look further than Lightning Labels, experts in high-quality digital printing.
Not only can working with Lightning Labels allow BBQ-related businesses to print labels that will endure, but also ones that allow for full design customization. Varying fonts, colors, sizes, shapes and materials are all available to manufacturers to ensure their barbecue sauce labels are detailed and appealing to hungry customers.
Get Saucy With BBQ Sauce Labels
Unlike when they're standing over the open flame when barbecuing, businesses don't need to sweat when they order from Lightning Labels, which offers:
Free ground shipping in the U.S. and Canada*
24-48 hour turnaround**
No set-up fees, no plate fees, and no added fees for unlimited color!
Free printed press proofs*** for all custom labels and sticker orders, in addition to PDF files
100% satisfaction guaranteed!
When summer starts heating up, so do grills and fire pits across the nation - all ready to get some good ol' barbeque action going. Whether it's ribs, beef, pork, chicken, or heck, even vegetables - it's not summer without barbecue.
And it's not real barbecue without BBQ sauce, which is just as important as the meat and fire temperature to making the perfect cookout, making eye-catching BBQ sauce labels a must.
Whether companies want to resonate with consumers through humorous labels or appeal to shoppers with bright colors and summer themes, Lightning Labels has it covered. Our customizable options even let you pair label colors with sauce hues, whether your sauce is a molasses-heavy burgundy or vinegar-based hot red.
Attractive BBQ Sauce Bottle Labels Get the Hungry Customers
Grocery store aisles can often be packed with different sauces, meaning manufacturers really need to stand out from the crowd with their BBQ sauce bottle labels. Businesses can do just that by taking advantage of such options as:
Removable labels
Circular or rectangular labels
Vinyl and BOPP
High-gloss laminate
And more!
A variety of different sizes, label materials and colors are available to choose from, as well as font and design elements.
Free Stickers and Labels Sample Pack
Lightning Labels offers full-color digital printing. Check out our custom label samples and sticker proofs for quality assurance and design ideas.
Click here to request your free sample
Lightning Labels has been servicing the printing needs of our customers for more than 10 years. We are extremely proud of our BBB rating (A+) and guarantee your experience with us will be a positive one.
Call us at 888-907-3004 today to place your barbecue sauce labels order and watch sales skyrocket!
*on regular priced orders **following proof approval ***shipping charges apply