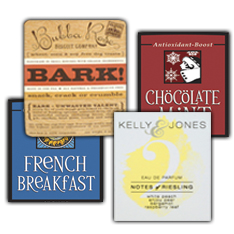 Product Description
Businesses and individuals shouldn't have to pay to design their own labels, for which they'll already commit budget space to - especially in a still-recovering economy. Lightning Labels understands this, and that's why we offer free online label material sample packs to our customers to better serve their needs and help them choose which labels are best for their products and branding.
Before committing to big purchases, consumers want to know what they're getting into. To help them in that regard, Lightning Labels offers free sample packs to customers that allow them to test out sticker proofs to get a feel for quality and maybe even get a spark of inspiration from the many designs available through sample packs.
Free Label Templates Help Label-Makers Get the Process Started
Our free resources are only part of the package, as customers are provided with superior service and value all along the way, we offer:
Free ground shipping in the U.S. and Canada*
24-48 hour turnaround**
No set-up fees, no plate fees, and no added fees for unlimited color!
Free printed press proofs*** for all custom labels and sticker orders, in addition to PDF files
100% satisfaction guaranteed!
In the days of the Internet, everything is made easier, so why can't online label creation be the same? Well, it is when you work with Lightning Labels and take advantage of our available free label templates to get the ball rolling.
For customers who have an idea of what they want but feel the specs are still a bit blurry, using free label templates is the perfect solution. Whether it's a tried-and-true design or something a little more unique, label templates are the perfect antidote for designer's block.
Free Online Label Design
Free online label design is a great feature by itself, but is made even more so when you consider all the label customization options we have like:
Removable labels
Different shapes including square and oval
Environmentally friendly PLA material
UV outdoor gloss finishing
And more!
A variety of different sizes, label materials and colors are available to choose from, as well as font and design elements.
Free Stickers and Labels Sample Pack
Lightning Labels offers full-color digital printing. Check out our custom label samples and sticker proofs for quality assurance and design ideas.
Click here to request your free sample
Lightning Labels has been servicing the printing needs of our customers for more than 10 years. We are extremely proud of our BBB rating (A+) and guarantee your experience with us will be a positive one.
Call us at 888-907-3004 today to place your order for free online labels!
*on regular priced orders **following proof approval ***shipping charges apply