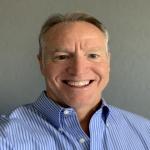 Gary Paulin is all about rapid growth. Throughout his career and during the last five years as
VP, Sales & Client Services with Lightning Labels, he has driven rapid growth of the company's customer experience team and the quality of their interactions with customers.
Business and Brand Development are his passions. Rapid growth of the Lightning Labels brand and overall business during his stewardship attest to his success in both arenas.
Prior to joining Lightning Labels, Gary spent nearly 30 years educating and training business leaders, while marketing and selling a diverse product portfolio, including software applications, professional services, media products and services, and effective marketing and business development strategies. He's directed large technical and sales teams, and managed multi-billion-dollar projects for such Fortune 100 companies as Westinghouse Transportation and Agilent Technologies.
Three years ago, he relocated to Arizona. The move provides easy access to the West and southwest US, two of the nation's fastest growing regions. And, he can make customer visits to any part of California quickly and conveniently.
When not overseeing Lightning Labels' rapidly-growing e-commerce custom label and sticker business, Gary enjoys mountain biking, road trips, and golf. He notes, "While my former home, Colorado, offers great amenities for my leisure-time pursuits, I'm finding that living in Arizona gives me the best of location, location, location. I can travel to see clients in the region, then come back and shift into weekend recreation mode."
In his role as sales and client service director, Gary has discovered that continuing tradition is an excellent strategy. "My primary contribution has been to capitalize on the company's pioneering spirit and passionate customer service woven into its DNA in 2002, the year the company was founded, and to build and realign the new business development and account management teams. "My ongoing and continuing directive is to continue expanding our presence as a leading e-commerce custom label provider, further enhancing and delivering an uncommon customer experience , and helping customers achieve superior outcomes along the way," Gary notes.
Working with a well-established customer-focused company gives Gary the ability to flex his muscle in a critical area. He points out, "While the hiccups and hurdles can be very different depending on company size, industry and other factors, the same basic rule applies to all situations: Figure out the best solution at a fair price and deliver it on time, every time."
Executing on this consistently has enabled Gary and his team to drive rapid growth of Lightning Labels.
Request your FREE instant quote today.