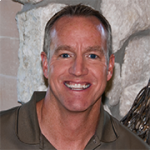 Two years after hire, Gary Paulin lauds customer service, capacity, team building progress
DENVER (PRWEB) MARCH 15, 2018
Many people mark anniversaries with a celebratory toast. Gary Paulin, Director of Sales and Customer Service at Denver, CO-based Lightning Labels, is reveling in accomplishments that have propelled the company to meet ambitious customer service, production, and capacity goals—and continue to ratchet up sales.
Under Paulin's guidance, Lightning Labels, a full-service custom labels and sticker solution provider, has substantially beefed up customer support and production capacity. Along the way, the company also has substantially strengthened its e-commerce ordering and tracking platform, providing a faster and easier user experience.
Paulin emphasizes that one of the most important drivers has been, "putting a face on what can be seen as an impersonal digital business. While we heartily support technology streamlining that can make such functions as online ordering and tracking handled with a few mouse clicks, we also have made a strong commitment to be a more holistic label partner. That requires more robust and proactive human interaction. Now, every customer has a dedicated account manager, who in turn is backed up by a fully staffed customer service team. More and more, we're viewed by customers as packaging and labeling business consultants, helping to guide strategy and decision-making, all while maintaining fast turnaround and affordability."
He adds, "Bottom line, we're spanning the continuum from rapid online ordering and re-ordering to helping companies achieve brand development objectives—providing caring and competent support every step of the way."
The future track is more of the same. "Lightning Labels pioneered many custom label e-commerce advancements in the early part of the century, and is continuing to innovate and stay a couple steps ahead of customer needs," Paulin notes. "Those customers can relax, knowing we've got their back—an increasing rarity in today's business world."
On the production and capacity side, Paulin has worked with the team to institute new measures that increase productivity, decrease waste, and promote going-green initiatives. New state-of-the-art digital imaging and finishing equipment has been instrumental to the entire effort; along with new Operations Manager Vic Jubber—whose experience spans two continents and just about every facet of printing imaginable.
"Our mentoring, training and teambuilding initiatives have paid off big time," notes Paulin, who has spent three decades educating and training business leaders in a variety of product arenas. Working with large technical and sales teams, he managed multi-billion-dollar projects for such Fortune 100 companies as Westinghouse Transportation and Agilent Technologies.
About Lightning Labels: Lightning Labels uses state-of-the-art printing technology to provide affordable, full-color custom labels and custom stickers of all shapes and sizes. From small orders for individuals to the bulk needs of big businesses, Lightning Labels is equipped to handle and fulfill custom label and sticker projects of all types. Best of all, like the name implies, Lightning Labels provides a quick turnaround for every customer's labeling needs. Uses for Lightning Labels' custom product labels and custom stickers include food packaging and organic food labels, wine and beverage labels, bath and body labels, and nutraceutical products, such as vitamins, essentials oils, and herbal remedies, as well as event stickers, adhesive window stickers and more. Lightning Labels strongly supports the development of environmentally friendly printing materials and carries Biostone, a green label material made from stone paper is water resistant and inherently strong and durable. While operating as a high-tech printer, Lightning Labels prides itself on its personalized customer service. Lightning Labels provides one stop shopping for all of your custom label needs. For more information and to place orders online, visit LightningLabels.com. For the latest in packaging news and labeling promotional offers, find Lightning Labels on Twitter (@LightningLabels), Facebook, Pinterest, Google+ and LinkedIn.