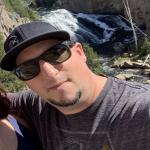 New business development specialist Tony Williams has discovered fulfillment in both his personal and professional life despite challenges and changes brought on by the pandemic. With Lightning Labels since February 2018, he has found similarities to previous experience in banking, where he worked with businesses of many sizes and needs in a variety of industries.
"I feel incredibly privileged and thankful that Lightning Labels is considered an essential business and therefore the current crisis has not affected my life and livelihood. The biggest complaint I have is I can't attend movies and concerts but in the grand scheme that isn't much of a complaint considering the hardship this crisis has brought to so many people," he points out.
Fortunately, working virtually has been business as usual. He says, "My favorite part of the job is just dealing with all kinds of businesses in all stages. Many of the people we help are just starting out and this is a very exciting step for them. For many, product labels are that final piece of the puzzle that brings their projects to life. Their passion is infectious and motivates me to step up my game to help ensure their products are reaching their full potential. It's also incredibly interesting to see all the different styles of artwork and how people brand and present their products differently."
What hasn't been business as usual is Tony's personal regimen, where priorities have shifted and time has opened up. He realized he didn't need a gym membership anymore. He bought a set of weights and a rowing machine and has started a new workout routine at home. He points out, "Since I work from home now, I no longer have to fight rush hour traffic and now have time in the morning to work out and that's a great way to start your day. This has been a shock because I'm not a morning person at all!" He also has more time to spend with his wife and two cats, and check out golf, collecting and watching movies and virtually attending heavy metal concerts.
All in all, the changes fit Tony's life preferences and have enabled him to rethink what's really important, and what isn't. "I consider myself a minimalist as I think it's important to try and pare your life down and focus on only the things that bring you the most amount of happiness and engage your passions. Life is full of distractions that divert our attention from the things that really matter. The crisis has forced people to simplify because they aren't able to go out and do all the things they used to do. I hope this has helped put things in perspective for a lot of people and in turn maybe help eliminate things in their lives that weren't as important as they once thought."
Request your FREE instant quote today.