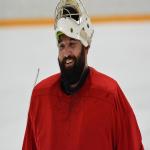 Lightning Labels Account Manager Ryan Tennant is goal-oriented, when playing hockey and while he's home working on business and parenting two children, ages 5 and 7.
COVID-19 has spurred many lifestyle changes. Now that he's working from home, Ryan can dedicate extra time and attention to "the quality of life at home and the amount of time I can spend with the kids, which is all I need."
There are silver linings and lessons to be learned in this new normal. Notes Ryan, "I am finding that we all are full of excuses. There is always time to reach out to friends and family. You never know who may need it. There is always time to help your kid play with toys or learn a new word when reading. And there is always time to take care of that project at home you've been putting off. Enjoy the moment."
Those moments have been more available both because of home-based status and ability to reach out and touch someone via virtual get-togethers. Ryan explains, "As a single dad, my life revolves around my two kids So I am always concerned with what I can do to improve their lives while providing a positive influence and nurturing parental figure for them. Friends are a necessity in life and I'm lucky enough to work with some of my closer friends like fellow Account Manager John Ament, who I've known for years and worked with prior to us both coming to Lightning Labels."
Prior to joining Lightning Labels in August 2017, Ryan worked with various breweries, a winery, and several metro Denver liquor stores. He also served as Account Manager for a linen and textile company, and as a purchaser/manager of a local Play It Again Sports.
When he's not home-bound, Ryan enjoys "spending time hiking with my kids or taking them to the pool or zoo. I like to be on the ice playing hockey." He also enjoys playing a recently acquired 1996 Fender P Bass guitar.
In his current role, Ryan points out, "I do love the familiarity we develop with our clients due to the dedicated account management style we run here. I am seeing us constantly distancing ourselves from our competitors with our turn times averaging three working days compared to weeks with others."
Request your FREE instant quote today.