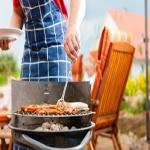 Sauce Labels Should Be Fun
There might be some lovers of the winter months, particularly those who enjoy getting out on a mountain for skiing and snowboarding. For the rest of us, spring and summer are the seasons that produce the most memories and give us the most happiness - especially when we own a grill. May is National Barbeque Month, and any company that produces sauces and other relevant items should take this opportunity to spruce up their labels.
Much like microbrews, hot sauce and BBQ sauce labels should be fun, unique, creative and artistic, helping the manufacturers to separate themselves from the many competitors now filling up the shelves at local stores. With the right level of effort put into the development of these labels, this summer can be a profitable one for purveyors of fine BBQ sauce and other favorites among the grilling population.
Labels with Panache
Hot sauce labels are very commonly over the top, and tend to use imagery that is representative of the heat that comes with the liquid therein. However, because so many manufacturers will use such similar imagery, you are going to need to think outside of the box to capture the eyes and dollars of your target prospects.
Consider taking a more brand-centric approach to making your jar labels, as this is going to be the first step toward really differentiating your brand from others. If your name evokes a specific image, that should be contained within the imagery and design of the labels you put on your jars and bottles of BBQ and hot sauce. All your designers and product packaging staff some creative license in these projects, and try to get a range of options to choose from as a team.
If you are a smaller, local sauce-maker, you should target your community with the labels by incorporating images and contents representative of the area.
No Time To Waste
With May already underway and the grills firing up, you need to get moving on these projects now. Memorial Day is perhaps the biggest grilling event of the year, so aiming to get the labels onto the products within the next couple of weeks would be ideal.
When in a crunch, consider leveraging the services of Lightning Labels, which offers a range of customizable options for labels and stickers and boasts some of the speediest order fulfillment out there.
Request your FREE instant quote today.