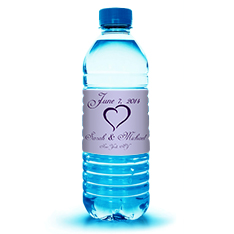 Product Description
Weddings are an exciting time for many couples, their friends and family members, and wedding water bottle labels are a budget-friendly addition to the day's festivities. Do-it-yourself projects are all the rage in the wedding world because they add memorable touches that tell the couple's story, but most turn out to be costly endeavors and take precious time to pull off. What bride or groom needs the added stress? Thankfully, one-of-a-kind wedding water bottle labels won't break the bank and are completely customizable, perfect for even the most unique weddings and special events.
Custom beverage labels don't just have to be a consideration in warm weather months during typical wedding season. Guests cutting a rug at the reception will certainly welcome such a refreshing wedding favor, and the water bottles can be taken from the event to cool attendees off after the event has ended. These wedding water bottle labels can also be a great addition to the maps and lists of local attractions in welcome bags given to out-of-towners at the hotel.
Water Bottle Labels for Wedding Festivities Add Personality
There are other qualities that make Lightning Labels and wedding water bottle labels a match made in heaven. Lightning Labels delivers unmatched benefits and value, including:
Free ground shipping in the U.S. and Canada*
24-48 hour turnaround**
No set-up fees, no plate fees, and no added fees for unlimited color!
Free printed press proofs*** for all custom labels and sticker orders, in addition to PDF files
100% satisfaction guaranteed!
A common goal for couples planning weddings is that the event is as personalized as possible, from color selection to cake flavors and beautifully written vows. Another way to guarantee the ceremony and reception are totally unique to the couple and their relationship is to order water bottle labels for weddings from Lightning Labels.
Not only could the high-quality wedding water bottle labels include engagement photos, custom text – perhaps a story of how the couple met and a nod to their pet or favorite sports team – or an eye-catching monogram in the couple's wedding colors, but it's fast and affordable. Lightning Labels' design flexibility and reasonable prices make it easier than ever to plan a wedding on a budget.
Contact Lightning Labels to Order Personalized Wedding Water Bottle Labels Today!
Planning a wedding is never easy, even for the most laid-back couple. Take one more item off your wedding checklist and let Lightning Labels handle the favors by ordering personalized wedding water bottle labels.
You'll get to choose from a wide variety of shapes and sizes including:
Square
Oval
Rectangular
And more!
Work with Lightning Labels and have some fun designing personalized wedding water bottle labels today!
Free Stickers and Labels Sample Pack
Lightning Labels offers full-color digital printing. Check out our custom label samples and sticker proofs for quality assurance and design ideas.
Click here to request your free sample
Lightning Labels has been servicing the printing needs of our customers for more than 10 years. We are extremely proud of our BBB rating (A+) and guarantee your experience with us will be a positive one.
Call us at 888-907-3004 today to place your personalized wedding water bottle labels order. Your guests will thank you!
*on regular priced orders **following proof approval ***shipping charges apply