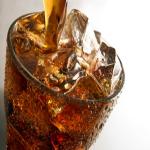 Soft Drink Warning Labels May Come to California, New York Shoppers in California and New York may soon see warning labels added to soft drinks - that is, if the efforts of the Golden State's Senate Majority Leader Bill Monning and Empire State Assemblyman Jeffrey Dinowitz are successful.
In an interview with NPR's food blog The Salt, Monning underscored the importance of making sure members of the public are aware that drinking beverages with added sugar puts them at risk of obesity, diabetes and tooth decay.
"We're just saying if we know about these health problems, it's also good for the consumer to know," Monning told the media outlet. "It might mitigate how often [shoppers] would buy these products."
Monning is an established crusader against sugary beverages, having previously authored bills to instate a soda tax that fell short of garnering the required two-thirds approval from each house in the California state legislature. As The Salt noted, the standard necessary for the warning label bill to pass is lower - the legislation only needs to earn a majority in the Senate and Assembly.
'Simple Warning' More Palatable Than Outright Ban, Assemblyman Asserts On the other side of the country, New York Assemblyman Dinowitz is also using past failures to spur his soda warning label campaign. In 2013, Michael Bloomberg, the former mayor of New York City, attempted to ban super-sized sugary beverages, but the law was overturned in court. Dinowitz, a proponent of Bloomberg's effort, is attempting to pass similar legislation to Monning's, which he believes is more realistic than pushing for an outright ban.
"We're not banning anything, we're not telling anyone you can't have cups," said Dinowitz, as quoted by The Salt. "It's a simple warning."
Dinowitz isn't the first New York politician to attempt to mandate the inclusion of warning labels on sugary drinks. Last year, State Assemblyman Karim Camara introduced Assembly Bill 10172, asserting, "As a society, we have a moral obligation to educate people so they can make healthier choices." The bill was never passed.
Knowledge is Power Although the beverage industry is objecting to the proposals, claiming current product labels are sufficient, many public health experts are in favor, ascribing to the idea that knowledge is power.
"It's really a libertarian solution: Give consumers the information and let them make the choice," said Harold Goldstein, the executive director of the California Center for Public Health Advocacy, as quoted by The Salt.
Request your FREE instant quote today.