Get an Instant Quote on Custom Labels & Stickers Now!
Considering Printing Your Own Labels?
Why When There's Lightning Labels!
Visit LightningLabels.com or Call 800.544.6323!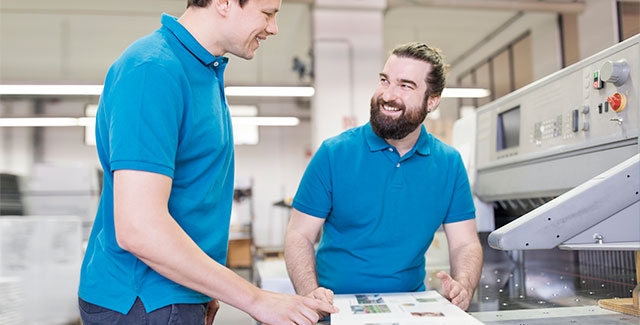 On the surface it may seem like a great investment - buy a printer and print your own product labels. Working with the experts at Lightning Labels you can achieve high-quality custom labels and stickers for any size project at an affordable price with lightning fast turnaround and superior customer service. Put your mind at ease and avoid the disappointment of poor quality labels.
Pros & Cons of Printing Your Own Labels vs. Working with A Professional Label Printer
Pros of Printing Your Own Labels:
The main benefit of DIY label printing is that you can print labels you need as you need them. This can help control inventory and provide you with on-demand product label printing.
Cons of Printing Your Own Labels:
While DIY label printing is attractive at first, when you consider the costs; additional overhead for inks and label stocks, as well as printer maintenance issues that can cause down time and lost revenue, you will find that for any significant volume of labels needed, outsourcing your label printing to a professional is the way to go. With better label printing quality to match these higher quantity product label needs, you will find that outsourcing label printing will allow you the cost efficiencies and time saved to allow you to focus on driving your business forward.
Another benefit of using a professional label printer such as Lightning Labels, is that depending on the industry in which you operate in, tapping into a professional resource can help provide valuable guidance to make sure you use the right types of labels for your products. For example, if you need water resistant labels, a professional can provide insight into the right label materials to use. If your products are refrigerated or need to be weather resistant, a professional label printer like Lightning Labels can help you find the right label material solution. This is where Lightning Labels separates themselves from the rest.
Contact Lightning Labels today for a FREE custom label quote!
SAVE TIME AND MONEY WITH LIGHTNING LABELS!
Vibrant High-Definition Labels
Thousands of Sizes and Various Shapes
From 50 to +15 million labels
Consecutive Number/Variable Data Capabilities
Lightning Fast Turnaround
Wide Selection of Premium Materials
Personalized Customer Service
Instant Online Quotes and Ordering
Visit Our Website or Call Now!
www.LightningLabels.com or 800-544-6323