LightningQuoteTM
Get Your FREE Quote Instantly!
Get Started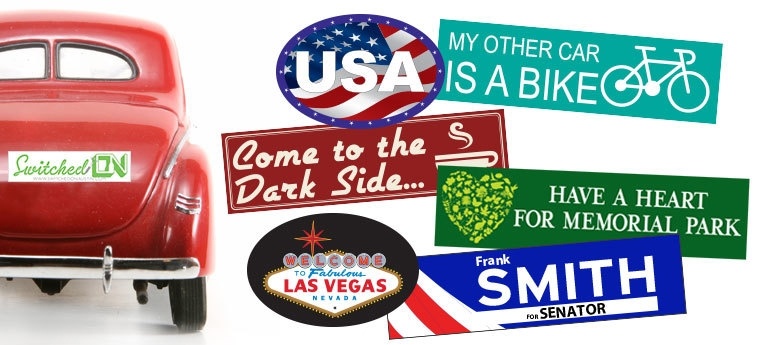 Custom bumper stickers are a U.S. institution
Bumper sticker printing evolves to fast, short run, affordable promotion
Bumper stickers are one of the most versatile, dynamic, time-tested…and under-appreciated marketing tools on the planet. And have been for a while now. Whether referred to as "custom car stickers" or "custom bumper stickers," bumper sticker printing is—and has been—big business.
With today's fast, short-run and affordable digital printing options, your custom bumper stickers (using one message/design or many—same price) can print and ship within 72 hours. Today's custom car sticker provides personality and personalization on a more professional level than ever before.
Bumper sticker printing really started about the time World War II was ending. A New York Times article notes, "One day in the mid-1940s, Forest Gill, the owner of a print shop, knelt down in a Kansas City parking lot and measured a car's bumper. Ever since the automobile age began, drivers had advertised their opinions with handmade placards tied to their cars with bits of twine. Gill realized that he could make "bumper signs" forever obsolete…Gill seized on two new technologies — self-adhesive paper and Day-Glo paint — and combined them into a novelty item perfectly adapted for America's highways. By the 1960 presidential election, bumper stickers were everywhere, rivaling buttons as a favorite way for voters to declare their intentions."
Far from being just "stickers for cars," bumper stickers can adorn just about anything—serving equally suitably attached to a refrigerator, bulletin board, store window, signage pole, laptop, even apparel. Because they're self-adhesive, application is very convenient. They can make great flyers, small posters or even political signs.
Unlike the 1940s, you're not stuck with laborious, costly printing processes…or Day-Glo paint! Today, thanks to lightning-fast digital printing, you can easily and economically show your school spirit, support (or oppose) local political candidates, promote your business and champion your favorite causes—all in full color. Choose oval or rectangle in four popular sizes, and get your customized bumper stickers on premium white vinyl material in quantities as low as 50.
Custom Bumper Stickers Provide the Perfect Fit
Lightning Labels uses state-of-the-art printing technology to create the perfect custom bumper sticker. Our bumper sticker printing process allows us the flexibility to print multiple designs on the same label material at no extra cost. It also means no set-up fees, no plate fees, no added fees for unlimited color, minimum quantities as low as 50 labels, and a lightning fast 72-hour turnaround time after proof approval on most orders. To top it off, we offer free ground shipping for online orders in the US and Canada. Each customer also gets personalized customer service with a dedicated, human representative assigned to each account. If you're not satisfied, then we haven't done our job –and that's why we offer a 100% satisfaction guarantee.
Get a Free Quote For Your Bumper Stickers
Lightning Labels has been servicing the needs of our customers for over 18 years. We are extremely proud of our BBB rating (A+) and guarantee your custom label buying experience with us will be a positive one.
Lightning Labels delivers unmatched benefits and value including:
Versatile printing capabilities
Quick turnaround for digitally printed orders (after proof approval)
Low minimums and no maximums
Superior quality and service backed by our 100% satisfaction guarantee
Free ground shipping for online orders in US and Canada
No set-up fees, no plate fees, and no added fees for unlimited color on digitally printed orders
Free printed press proof or PDF proof with every label order (shipping charges apply)
Get an instant bumper sticker quote with the click of a button. Buy custom bumper stickers now, or continue shopping!