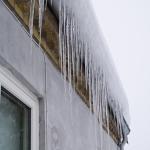 Tough Labels for Rough Weather
The coldest months of the year loom ahead, and if you make products meant to be displayed outside during the winter, you're going to need to ensure they're made of appropriate materials. There's no value in a label that peels off of its product before it can pass on its marketing message, and that's why it pays to carefully manage your labeling for outdoor goods - or even ones that could conceivably be stored or transported through the cold. Fortunately, you don't have to sacrifice vibrant colors or high-quality imagery to get the temperature sensitive labels you need this winter.
The Cold Months Are Here
It's December, which means it's a great time to check on your labeling strategy. Items that are displayed, stored or transported in cold temperatures may be looking worse for wear when they reach their destinations. This is a major problem for your brand because labeling is an important way to perform last-minute marketing and get people excited to purchase the item in question. If the labels' adhesive is giving out, it doesn't matter how long you spent on their graphic design, that part of the presentation is lost. This is where temperature resistant labels come in, staying strong in inclement weather.
In addition to your main labels, it's possible to add stickers that stay in place during the colder months. These temperature resistant stickers can even impart seasonal information such as the temperatures a product can withstand. The stickers then strengthen the impression that the item works at low temperatures by looking good even when they're displayed in the cold. Stickers are a good addition to a labeling strategy in that their deployment can be flexible. You can add seasonal stickers during the winter, then remove them from unsold items in spring to try a new set of relevant seasonal tactics.
When deciding whether your labels and stickers have to be strong enough to withstand cold temperatures, don't just think about outside-focused items. Imagine the warehouses where items will be stored and the trucks that will carry them. If any stage of the process will be particularly cold during the winter months, it's best to go with temperature sensitive labels or stickers.
Time to Order
Is it too late to launch a new labeling or sticker strategy that will take effect this winter? Not if your company works with Lightning Labels. True to its name, Lightning Labels is able to offer lightning-fast turnaround on orders. You can know that your stickers and labels will be with you in a matter of days, rather than weeks or months, due to Lightning Labels' ongoing commitment to not outsourcing its production and its use of digital printing.
With many different materials available, you can pick one that will survive the harsh temperatures of winter - or refrigerated environments, if you sell and item that needs to be cold year-round. On top of the added toughness, you don't have to sacrifice your products' appearance. Lightning Labels works with materials that enable high-quality printing of impactful and sharp imagery.
Request your FREE instant quote today.