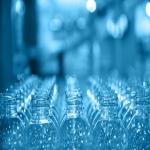 Add Branded Flair to Any Event
Water bottles that are distributed to guests at events are perfect delivery mechanisms for customized messages. Depending on the type of event, there are lots of different potential messages to go on these bottles. This simply means that whenever a big gathering is on the calendar, you should take time to ponder whether custom water labels will help out.
In business or charity contexts, labels are a great branding vehicle. On the personal side, you can create a winning look for a wedding or other large-scale party via personalized water bottles. Below, we break down these kinds of events - and this is just a beginning. Truly, wherever there are numerous water bottles, there is a branding opportunity.
Business: Meetings and Events
Whether it's an industry conference featuring many corporate entities or an event being put on by your company alone, a professional gathering or convention is a great place to deploy custom water bottle labels. Organizers of multi-business events can put their own logo on the bottles or call on a participant business to step up as a sponsor, gaining extra capital and promoting that firm's brand. Busy attendees hurrying around an industry conference will be happy to have complementary water, and good-looking bottle labels will likely make an impression.
Charity: Fundraising Drives
A charity or other nonprofit has a few different possible avenues for custom water bottle uses. Your group can put a corporate logo on water bottles at a major event in return for a sponsorship money. Alternately, you can strike an agreement with a privately funded event to display your information on water bottles and attract donations that way.
Weddings and Events: Add Flair
Creating a unified look for a wedding or other major get-together can extend all the way to food and drinks. When you employ personalized labels for water bottles, even something as simple as water becomes a part of the aesthetic. If you put the date of the party on the label, guests may even opt to take the bottle home as a souvenir of the big day. Weddings, family reunions, school reunions - any festive occasion with high attendance can benefit from custom water bottle labels.
Labels That Won't Let You Down
To undertake any of the aforementioned projects, you need a reliable source for the custom labels. When you work with Lightning Labels, you gain access to speed, quality and customer service that will keep your plans on track. Due to its use of solely digital processes, Lightning Labels is capable of turning orders around quickly and producing smaller amounts of labels - these are critical factors when producing custom materials for a single event.
Labels that weaken or break down when exposed to liquids may fail to hold up as water bottle labels. Lightning Labels offers water-resistant bottle labels that will keep looking great over time. White BOPP labels, the most popular kind Lightning Labels offers, is impervious to harm from water or oils. Using a tough material and finish will help ensure your custom labels look great for the duration of any event.
Request your FREE instant quote today.