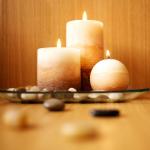 Selling candles means convincing customers that your brand will bring warmth, comfort and pleasant scents into their homes. Your custom candle label design can play a large role in this sales process, which means it's worth thinking about putting time and effort into creating the best candle packaging possible.
A few separate elements go into this type of packaging design — you have to choose branding and artwork that clearly express your brand's point of view, while also including vital safety warnings and choosing materials strong enough to stand up to heat.
Successful candle label design efforts can yield rewards year after year, as customers become accustomed to having your products in their homes. This kind of customer loyalty can keep a small candle business thriving and growing.
Creating Candle Labels that Meet Customers' Needs
A good strategy for candle packaging design should reflect customers' preferences and interests. By demonstrating that your brand is in tune with the way shoppers will use candles in their own homes, you can win their business for the first time.
The National Candle Association offers a useful breakdown of what consumers are looking for when browsing candles in stores. The key word for many of these shoppers is coziness: Nine-tenths of buyers want candles that will make their rooms feel comfortable.
The NCA added that there is an increasing focus on candles that will become a central part of their room decor. This is an important consideration when it comes to selecting colors and candle jar labels. You need to craft designs that are pleasing to the eye because they'll become lasting parts of buyers' homes. Rather than simply promoting your brand in stores, the candles will need to look great over the long term.
You have numerous graphic design options at your disposal when creating this type of candle label. After all, your buyers won't all have the same type of decor in their homes. You can opt for cozy imagery, chic minimalism or anything in between, all based on your audience and subsequent research.
If you choose to go with coziness, your choice of candle container artwork can be a vital part of your overall marketing efforts. Depending on your overall branding, you may favor abstract artwork or photos that evoke comfortable feelings. Creating candles that fit into more modern, minimal decor may mean using a large amount of negative space, with text acting as the main component of the label design.
For a brand that produces scented candles, seasonal releases may prove especially important. After all, what customer can resist a pumpkin scent in the fall or a floral aroma in spring? If you offer seasonal candle releases, you can create a cohesive visual identity by crafting label designs that play heavily into their respective seasons, with firelit winter designs, sunny summer scenes or anything in between.
Making High-Quality, Reliable Candle Labels
There is more to creating custom candle labels than designing suitable graphics. Due to candles' heat and open flames, you have to make sure they have the right warning labels, while also creating the labels or stickers themselves out of materials strong enough to withstand heat.
When dealing with safety labeling, the National Candle Association is the primary source of industry knowledge. This organization requires that all its members use its standard safety label format, which involves three warnings — burn within sight, keep away from things that burn and keep away from children.
In addition to written cautions, those three points have their own pictograms to make sure they're as clear as possible. The NCA advises that customers only buy candle labels that are labeled for safety.
Another consideration beyond safety labeling is making sure the labels themselves are safe and secure. Using heat-resistant label materials is a vital part of the candle label creation process.
When you work with tough label material options, you don't have to worry about labels fading as the candle is used. This isn't just a safety issue, it also doubles as a branding point. Since candles tend to act as vital parts of buyers' home decor, it's essential that candle labels continue to look good throughout the entire usable life of the candle.
Finding an Ideal Printer to Produce Custom Candle Labels
What makes a perfect custom candle label production partner? The company needs to have access to tough label material options, while also understanding the ins and outs of graphic design, while also being able to produce labels and stickers of many different shapes and sizes. This is why Lightning Labels is the best option to create candle labels for your brand.
Lightning Labels has worked with companies across various industries for over 20 years, offering helpful services at every stage of the label creation process. From design service consulting to high-speed digital printing, Lightning Labels can craft custom labels or custom candle stickers to suit any shape of candle container or other packages your business chooses.
Whether your ideal candle label is an imagery-rich large label that stretches around a candle jar, a minimal custom sticker to place on the jar lid, a label meant to complement a colorful candle box or anything in between, you can create that packaging in collaboration with Lightning Labels.
With a wide variety of label materials, fast turnaround times and flexible order sizes, Lightning Labels is your perfect candle label partner for today and for wherever your candle business goes next.