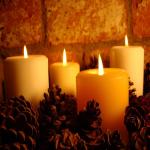 There are a few basic musts when it comes to candle label design:
Beyond these priorities, however, you have plenty of candle design options. Your choices can determine how your products look on store shelves, influencing how customers react to your brand.
Why Focus on Candle Label Design?
Your candle business shouldn't take design for granted. When customers browse, they have a limited amount of time to pick between similar, competing candle brands. While factors such as scent and wax color will help people make their decisions, candle packaging is the clearest way to let shoppers know exactly what they're getting.
In addition to winning over first-time buyers, your candle label is also a way to bring back repeat customers. Someone who has just enjoyed a scented candle and wants to buy another from the same candle maker will look for familiar imagery on store shelves.
Candle Label Design Ideas: Design Inspiration for Your Brand
Once you've committed to focusing on candle packaging design, it's time to settle on an aesthetic for your new candle jar labels. Browsing a gallery of candle label ideas on a site such as Pinterest will quickly show you just how many options you have. These can include:
Packaging with a minimal aesthetic: Sometimes, the wax and the scent are your candle's real selling points. In these cases, choose a simple packaging design that outlines the basics — white text on black and black text on white are both popular.
Candle packaging with coordinated color palettes: If you don't think a simple black or white look is right for your scented candles, choose bold colors that complement the wax of the candle itself. Whether through solid blocks of color or color-coordinated photos, it's possible to create an evocative look.
Candle stickers for jar lids: Your label doesn't have to go on the glass candle jar itself. With a simple round custom sticker on the lid of the glass jar, you can show off the wax in 360 degrees while still leaving yourself room for labeling.
Custom labels in interesting shapes: The die-cutting process allows you to create candle labels that are curved on one or both sides, or that use bolder shapes, such as starbursts. These can add some extra visual appeal to your candle packaging.
Candle labels with evocative artwork: Plain imagery can help customers envision your candle's scent. If your candle has a fresh, botanical scent, for instance, a traditional-looking line drawing might get the point across beautifully, while also being easy to look at and not too busy.
The guiding principle for all your candle label decisions should be to suit your brand identity. What feelings do you want to evoke? Your candle packaging should serve that purpose.
Make Your Candle Label Design Ideas Come to Life
Your choice of candle label printing partner is an important element in your label design process. It's important to choose a printer that has access to high-quality printing methods and strong label materials and will be able to deliver your custom candle labels both on time and in the necessary quantities.
This need for quality means your candle company should go with an experienced custom label printer like Lightning Labels. By working with clients across numerous specialty industries, candle-making included, Lightning Labels has become a trusted ally for brands that need reliable labels quickly.
Request your FREE instant quote today.