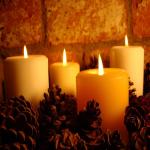 If your business makes candles, you have to place focus on your candle label design and production efforts. These custom labels are the main medium where you can convey marketing messages to your audience, and they come with some unique requirements that you can't ignore.
Labels have to be made out of strong materials that will withstand the heat on candle jars while still looking good over time. You also need to include important warning information, such as the pictograms favored by the National Candle Association, so your buyers will be informed about the safest way to enjoy their new candles.
Beyond those label design needs, it's also necessary to consider your aesthetics and graphic preferences. Candle labels carry your branding into the world, and it's the last thing shoppers see before making a purchase. Packaging is what distinguishes your brand from others, and as a candle manufacturer, you can't afford to overlook it.
Why Focus on Candle Label Design?
If it's been a long time since you changed your brand's approach to candle label graphic design, it's important to look at your current graphics and give an honest assessment — could you be offering more compelling or creative branding?
Customers who've gone to a store to buy scented candles only have a limited number of factors to assess when making their decision. They can inspect the wax color and sniff the candles to get an idea of their scent when lit. However, custom labels are a more direct form of attention-grabbing branding. They provide a way for you to speak directly with shoppers.
When your brand and a competitor each offer candles with comparable scents, how will consumers decide between them? Candle labeling can be the deciding factor.
Compelling branding isn't just valuable as a way to capture new candle buyers for your brand. It's also a valuable tool for encouraging repeat business. A shopper who has enjoyed your scented candle items in the past may check the product label to make sure they're buying from you in the future. Consistent branding can help you make that sale.
Candle Label Ideas: Design Inspiration for Your Brand
When making graphic design choices for your candle brand, you can settle on a target aesthetic, ensuring all your candles have a consistent, professional look. Of course, the actual content is up to you. Every brand is different, and possessing a unique design sensibility can set your products apart.
When you browse galleries of candle label ideas, like this one available on Pinterest, you'll quickly realize just how varied your graphic design options are. Some of the possible directions for your brand include:
Packaging with a minimal aesthetic: In some cases, there's no need to do too much with scented candle labels. The smell and the wax color are the candle's true selling points, so you can choose a minimal look for your custom labels. White text on black and black text on white are both popular choices for brands that take this path. Either of these versions creates a neutral aesthetic that works well in countless situations – and can blend in with customers' decor once they take the candles home.
Candle packaging with coordinated color palettes: If a black or white custom label isn't bold enough to suit your brand's overall marketing strategy, you may choose a vibrant color. Solid blocks of color or color-coordinated photos that match the candle wax create a consistent and evocative look for each candle variety. Just be sure to create through lines that unite your whole product line, such as a distinctive typeface across all scents.
Candle stickers for jar lids: A custom candle label doesn't have to wrap around the whole candle jar. Instead, you can choose to produce candle stickers that affix to jar lids. This leaves the entire candle visible, and is an especially good choice when you're using distinctive wax colors that customers will want to see clearly. Use an effective label printer that will deliver sharp, legible text, including brand logos and safety warnings, even in the limited space provided by a jar lid.
Custom labels in interesting shapes: By using die-cutting, you can order custom labels in shapes other than standard rectangles and ovals. This allows you to create bold designs such as starbursts, or to create labels that closely follow the contours of your logo. Die-cutting also allows you to design relatively small round candle labels compared to your candle jars. This contrast enables you to display important information on the labels while still having the color of the wax come through clearly.
Candle labels with evocative artwork: Minimalism doesn't work for every brand. You may prefer to use artwork or photographs that conjure up a scented candle's smell. In this case, you need to ensure you're working with a printer that can deliver the vibrant colors and sharp imagery your brand deserves. Graphic design elements can range from a traditional, old-fashioned line drawing to an abstract 3D rendering or anything in between.
There is one principle that should guide all your decisions around custom candle label design: Each choice should suit your brand's identity. What feelings do you want your products to evoke? All of your candle packaging choices should create that emotional impression.
Candle Label Production Best Practices
Creating custom candle labels means combining a few important features. A lot of the products' unique requirements come from the fact that they involve open flames. Heat-resistant custom label materials will ensure that the labels keep looking good even after the candle jars become warm repeatedly.
In addition to choosing tough product label materials that can withstand high temperatures, you'll need to include tags that warn consumers about the hazards of burning candles in unsafe ways. The National Candle Association maintains the standards for these candle fire safety labels and only admits candle maker businesses that execute these criteria.

There are three required warnings on NCA-approved candle labels, each accompanied by its own pictogram for extra clarity. These are:
Burn within sight.
Keep away from combustibles.
Keep out of reach of children.
The Association warns that customers should be wary of buying any candles that don't have those fire safety warnings, and adds that there are additional instructions on most custom candle labels.
Fire safety information and correct usage directions allow your customers to know that you care about keeping them safe, and they give your scented candles a feeling of legitimacy and trustworthiness.
The Power of an Effective Candle Label Printing Partner
Creating your own labels from a candle label template is an uncertain way of switching up your candle branding. You can gain a greater sense of security from working with a professional label printing partner. This applies whether your business is large or small and whether you need dozens of custom labels or thousands — by using digital printing, it's possible to make an economically smart candle label order.
For over 20 years, Lightning Labels has created effective packaging for companies of all sizes and descriptions. In addition to flexible order sizes, Lightning Labels' all-digital printing methods enable fast turnaround times. You can select a tough label material that will stand up to the warmth of a candle container when the flame is lit and keeps looking good as part of your customers' home decor.
Whether you need candle stickers for jar lids, die-cut labels in interesting shapes, colorful labels with vibrant brand imagery or anything in between, you can trust Lightning Labels as your label printing partner. Revising your candle labels is a way to draw new attention to your products on store shelves, and with experts by your side, your revamp is set up for success.
Request your free instant quote today.