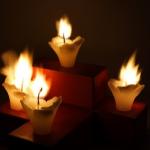 Acknowledging the Importance of Heatproof Labels
When it comes to packaging, some types of items come with pretty standard requirements - most food products, for example - whereas others have more specific needs, such as waterproof or heatproof labels.
For instance, bath and body product labels need to be able to withstand contact with water and oils, while the stickers on candles must hold up to heat and be flame-resistant. As well as fulfilling practical concerns, custom labels and stickers need to be vibrant and high-quality in order to catch the attention of consumers.
Strike a Balance with Custom Candle Labels
As far as custom candle labels are concerned, enterprises that focus solely on the aesthetic aspect or safety considerations will likely miss the mark. The key is to find a balance between making labels attractive and functional. After all, a beautifully designed candle sticker that isn't wax- or heat-resistant could crash and burn - literally. By the same token, a fire-resistant label that lacks the "wow" factor required to pique shoppers' interest is unlikely to help a company become competitive within the candle marketplace, so the product's sales might go down in flames.
Lightning Labels Understands Candle Labels' Unique Requirements
Lightning Labels routinely provides candle labels for customers, so we can help you create the perfect design for your product while simultaneously ensuring the labels are safe, flame-resistant and able to withstand extreme heat. Our offerings are full-color and high-quality, which you can see for yourself by requesting some product samples before placing your order. Don't choose between design and safety - get both when you let Lightning Labels handle your candle stickers and labels.
Request your FREE instant quote today.