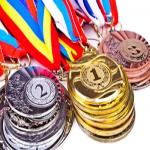 In a few short weeks, the world's greatest athletes will assemble in Brazil for the 2016 Summer Olympic Games. If you're looking for a way to support a hometown favorite athlete - or the whole team in general - custom Team USA stickers may be just the thing to do so. Years elapse between every edition of the Olympics, making the few weeks in which they take place hugely important. Athletic legacies are cemented and dreams are accomplished in that short span, and commemorating the epic efforts of American athletes is a great choice.
Support the team with Olympic labels
With the Games set to start soon, it's time for parties, with people getting together to watch American athletes compete on the world stage. If you're planning to host one of these gatherings at home or for work, or even intend to attend one, you can add to the festive atmosphere with colorful stickers. There's room to add patriotic and athletic themes to every element of a party, and in an office setting, the decorations can stay up for the duration of the Games. With the careful application of custom stickers, USA team spirit will be on full display.
If the chosen Team USA labels and stickers are sturdy enough, they will last for the weeks the athletes are in Rio and beyond. No matter which sport you are most passionate about, there is a way to turn its imagery into a bold sticker design that will stand out and leave no doubt that you're rooting for your country's athlete to bring home the gold. The summer games truly have something for everyone, with events spanning from track and field to swimming and diving to team sports such as soccer and beyond. Team USA is always a top contender to win plenty of medals, rewarding the enthusiasm of the fans back home and in the stands.
It's almost time for the games
With the opening ceremony just around the corner and the athletes making their final preparations to depart for Brazil, the time is now to get your Olympic stickers ready. If you're worried it's already too late, don't be - Lightning Labels offers small print runs of stickers and labels at reasonable prices, all turned around in lightning-fast times and strong enough to hold up in the long run. When the Games begin, no one will be in any doubt about your rooting interest if you pursue these custom stickers and apply them liberally to your home or work space.
Is there an athlete from your town or city competing in Rio? If so, then stickers of support can take on a specific dimension, offering support to him or her during this Olympic campaign. It will be four years before these athletes reconvene in Tokyo, so if you're planning to go all-out and decorate for the Games, this is your last chance for a long time. Workplaces and homes both make great places for parties to honor and support Team USA, and a selection of stickers and labels will complete the atmosphere of sporting excitement.
Request your FREE instant quote today.