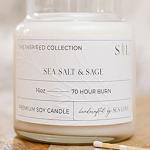 When creating label designs, you don't just have to think in two dimensions. It pays to consider the texture of your product labels as well. If items have raised elements on their labels, shoppers may be tempted to take a closer look, or pick the products up. This is a great way to earn extra attention for your carefully designed branding.
An embossed foil label or embossed sticker is pleasing to the eye and irresistible to touch, and it can show off the premium, high-quality nature of your products. Embossing also combines well with other label printing techniques such as hot foil stamping, which adds a metallic tinge to your product packaging.
The net effect of these unique labeling decisions is to set your goods aside from competitors' offerings. This is useful for all types of retail because when shoppers have to make a choice about which item to buy, label quality is one of the final factors they consider.
Selling Products with Embossed Labels
Embossed labels can emphasize an image or line of text, giving special importance to that part of your label design by raising it above the surface. This technique can highlight your brand name or logo. Alternatively, you can highlight a seal of quality.
In some cases, the seal — noting an award or other accomplishment — may stand out more if it is separate from the primary product label. In these situations, embossing is still valuable. Simply opt for a custom sticker with embossing instead of a full custom embossed label.
Because any type of image or text is eligible to be embossed, there is no limit to the kinds of products you can pair with embossed labels. Goods designed to appeal to discerning consumers, such as premium food and small-batch wine or liquor, are especially good choices for embossing. Customers seeing a unique wine label or liquor bottle label will understand that these products have received extra attention from their manufacturers.
Exploring Embossed Label and Sticker Options
Just as there are no limits to the types of items that can receive embossed labels, there are near-unlimited options when it comes to the kinds of labels eligible for embossing. The process works with any label material, from upscale paper options to tough and versatile BOPP polymers.
When you combine embossing with hot foil stamping, you unlock new possibilities. A custom product label with both a raised texture and metallic foil accents can show off your commitment to creating a great retail experience.
The same machinery used for custom label embossing is also available to create embossed stickers. These are smaller than product labels, and you can apply them to your items after production or order them as sheet or roll labels to use when needed.
They can contain your brand name or logo, show off a milestone your company has accomplished or denote an award the brand has won. You can even print seasonal embossed stickers to celebrate a limited-time promotion. Combining embossing with hot stamping lets you produce stickers that resemble prestigious medals.
Ordering Embossed Labels
To truly exploit the value of embossed labels and stickers — their ability to work for multiple product types, compatibility with many label materials and more — you need a reliable, experienced label printing partner on your side. This is why Lightning Labels is your ideal source for these product packaging options.
The embossed labels and stickers available through Lightning Labels are compatible with other processes such as foil hot stamping and available on almost any substrate, including textured label materials. These embossed labels and stickers are produced on industry-leading machinery manufactured in Denmark, and they can be printed and shipped within 6 to 7 days after proof approval.
Lightning Labels has served companies across all industries for nearly two decades, developing a relationship for superior flexibility, quick turnaround times and next-level customer service. No matter what your brand plans to use embossed labels for, Lightning Labels can help you execute your strategy.
When it's time to print embossed labels or stickers that will truly convince your customers how much effort your brand is showing, standard printing may not suffice. By using product labels with embossing, you can take packaging design to a new level.
Request your FREE instant quote today.