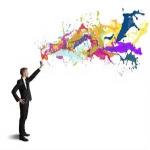 Die cutting is the process by which custom labels get their shape. Whether you want your products' labels to have a simple rectangular or oval shape, or to have a more exciting form, they are cut into shape by a metal "die" during production. This is a high-precision process, one that can yield great results, and when you take full advantage of die cutting's possibilities, you can receive packaging that truly enhances your items and makes them stand out on store shelves.
What Goes into Die Cutting?
Going from rolls of label materials to a finished set of die-cut labels requires special equipment, as well as artwork files that meet requirements. The label die cutter contains a blade that cuts around the labels, leaving them in the requested shapes while not damaging the paper backing that holds the labels. The die works with a 1/32-inch plus or minus margin of error, meaning label artwork files should leave that much space around their edges to ensure the finished result always looks great.
When you work with Lightning Labels for your die-cut labels, you get to choose from one of dozens of die shapes, each accompanied by a to-scale PDF that allows you to size your artwork perfectly. From a straightforward curve designed to wrap around a bottle to a more adventurous or specialized form, you can make sure you're getting the right kind of coverage for your particular goods.
What Kinds of Products Should Have Specially Shaped Die-Cut Labels?
Products that come in unique packages, such as tubes of lip balm, are great candidates to receive die-cut labels that will fit perfectly on their distinctive forms. You can also get great results from selecting labels that take the form of seals of approval, or employing triangular labels on transparent containers to show off more of the contents.
Die cutting is just one of the steps that leads to an ideal label for your products, along with digital printing. Lightning Labels uses all-digital presses to create custom labels quickly, efficiently and up to a high standard of quality. With no need to create flexographic plates, you can avoid the upfront costs associated with traditional printing and affordably order small batches of labels or highly variable sets of packaging.
Working with an expert partner organization such as Lightning Labels means getting the exact custom labels you need for your project of choice. That includes die cutting to generate labels that fit on your brand's chosen containers and make a positive visual impression.
Request your FREE instant quote today.