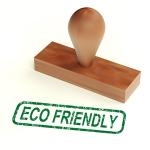 Show Your Principles with Recycled Labels
When people shop today, they aren't just picking out items based on the products themselves - they're making a decision to support a brand, ideally one that aligns with their values. You can reach out to eco-conscious consumers by using production methods that are earth-friendly and create a minimal carbon footprint. This focus should extend to labeling. After all, a label proclaiming that a company is committed to conservation is more convincing if that label itself is made with green principles in mind.
Many Labeling Options
There are a few necessary discussions around switching your brand's labeling strategy to use eco-friendly materials. The main point of concern is likely to be whether using those substances will make the labels less tough or aesthetically pleasing. Thankfully, Lightning Labels offers a variety of green labeling materials that are produced in responsible, low-impact ways while still delivering the kind of strength and flash you expect.
Using recycled labels, made from 100 percent post-consumer content, is a great way to show that your brand is interested in protecting the environment. Recycling means breaking the cycle of producing new materials and leads to a reduced carbon footprint for all related products.
Lightning Labels offers two different label styles made entirely of post-consumer content. Which one you choose depends on the look you want for your items. While Recycled Kraft Labels have an earthy, rustic look to them, Recycled Vellum Labels are a neutral white color that will accept any kind of colorful logo your brand desires. Both kinds of labels are strong enough for machine application, in case your brand uses automated production methods.
These eco-friendly labels are an especially good choice when your products have been made out of recycled content or produced in other ways designed to create a minimal carbon footprint. Packaging is an important product, and it could compromise your brand's dedication to ecology if your products aren't packaged in a sustainable way.
Show Your Commitment
April is Keep America Beautiful Month and, therefore, a great time to declare your brand's allegiance to minimal environmental impact and low-carbon emissions. A recycling focus that extends to labeling is a pillar of such a commitment. Individuals assessing your items next to competitors can feel confident that they are choosing a brand that values sustainability.
Even though April is already underway, it's not unreasonable to announce a new labeling strategy for Keep America Beautiful Month. When you work with Lightning Labels, turnaround times are minimal due to Lightning Labels' all-digital processes and commitment to domestic facilities. You can assure your customers that eco-friendly labels will be on the shelves soon and really mean it, because Lightning Labels turns orders around in days, not weeks or months.
Conservation and recycling are great goals to align your brand with because they have unlimited resonance - ensuring that the planet is well taken care of will always be relevant. If you're ready to make this connection, there are options out there that suit your needs. When switching to more sustainable materials doesn't mean sacrificing quality, you can't lose.
Request your FREE instant quote today.