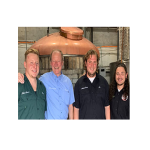 Golden City Brewery started crafting beer in 1993
After making the rounds of area breweries, homebrewer Charlie Sturdavant decided to brew up his own business. He and wife Janine, both geologists, founded Golden, CO-based Golden City Brewery in 1993.
Notes their website, "They filled the old machine shop behind their historic Golden home with used dairy tanks and Charlie began brewing German-style ales. The tasting room was originally located in the sunroom of their house and provided Red Ale and Pale Ale to the local community in half-gallon growlers and kegs. Since that time, the operation has expanded at the same location (still their home). The carriage house has become the tasting room, the backyard is the beer garden. The brewery is still in the machine shop, but a second level was added inside. All the old 'frankenbrew' equipment has been replaced with real beer fermenters and a slightly used gas-fired kettle."
The first year they sold 23 barrels. By year three, the total was 400 barrels. Charlie recalls that we were "undercapitalized with lots of enthusiasm." That enthusiasm propelled them to become a regular stop for area residents and visitors.
Current offerings range from Plum Crazy Sour and Cherry Bomber to Hoop A Joop and Tardigrade Brut IPL.  International flavors extend all the way to Nepal, where its only craft brewery has licensed Golden City to brew and distribute a German-style beer called Khumbu Kolsch in Colorado.
In addition to Charlie and Janine, son Derek serves as Head Brewer. Their daughter, Tamara, is the tap (room) and business manager.
Good taste is both an art and science Notes Charlie, "I'm a fan of traditional beers brewed well. I like German beers. You've got to be right there to flavor test. There's an old Chinese proverb that the best fertilizer is the footprint of the farmer. You've got to have a hand in it."
Charlie adds, "It's an art and a science. My background is in geology, chemistry and physics. Derek has a degree in microbiology and chemistry. A lot of brewers are artistic, but can't reproduce it. A lot of brewers are technically perfect. There needs to be love in the beer. I've always had a good palate. I've been a beer judge. When I taste it, I can tell what works and why, and what doesn't and why. You have to practice. It's a craft."
If at first you don't succeed… Charlie points out that beer can be a trial-and-error proposition, depending in part on prevailing palate preferences. He notes, "I was trying to get creative with beers. I did barrel fermentation with Cherry Bomber Ale, and it didn't catch on in the nineties. Now, it's all the rage. We're doing the same stuff now that didn't work years ago."
Relationship with Lightning Labels, the lightning-fast custom beer label digital printing specialist At one point, Golden City was shrink wrapping cans at a cost of 28 cents each. They had to be purchased in quantities of a thousand, and would deteriorate after six months if not stored properly. "We were throwing away money," Derek points out.
Lightning Labels' small-run beer label printing model and partnership style proved to be the solution. "It's a true partnership. I design the beer labels, Lightning Labels can do them seasonally in small runs as needed, down to 300 labels. It fits our business model, which we couldn't do with sleeves."
Request your FREE instant quote today.