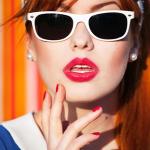 Spring Colors and Beauty Tips Enhance Packaging
As spring begins, everything starts to feel different. Spurred by warmer weather, people want to get outside, be active and - vitally for cosmetics producers - wear spring colors in both clothing and makeup. The change of seasons is a great time to change your cosmetic labels. Whether you're launching new products or just urging customers to take a different look at your existing line of cosmetics, there's room to spread such a message via your labeling.
Offer Hints
When you work with a label provider capable of producing bold, high-quality labels, you can include more text on your labels than you'd be able to fit otherwise. This can encompass hints and tips, showing ways to use your products to achieve a certain effect. The change of a season is a great time to switch up the beauty suggestions on your cosmetic product labels, with new priorities and preferences coming to prominence as the temperature rises.
Get Colorful
Products and labels alike can benefit from a burst of spring color. The floral hues that define April and May seem tailor-made for your custom cosmetic labels. If your company mostly sells locally, you can also incorporate a regional feel. No matter what you choose, fun and freshness are reliable go-to themes. People are excited to spend more time outside, so you can't go wrong with adding more sun and fun to your product labels.
Plan for the Sun
If you offer sun-blocking products in addition to pure cosmetics, spring and summer are when they'll be at their peak importance. Refreshing your custom sunscreen labels while the days grow steadily longer label ensures they'll be at peak attractiveness and effectiveness when the scorching days of summer arrive. Protecting your customers' skin from UV rays is an important role for your products, meaning these labels can combine vital health advice with a fun, outdoors-themed look.
High-quality cosmetic labels
Of course, if your products' labels aren't manufactured to high standards, it will be difficult to make a good impression on your customers in spring or any other season. Working with Lightning Labels is therefore an essential part of launching an effective spring campaign and making your cosmetics products look great year-round. Lightning Labels offers a variety of materials and finishes that are perfect for cosmetics. When you go with labels that resist water and oils, you ensure they'll look great for a long time - when it's time to buy that same product again, your logo will still be clearly visible, urging shoppers to go with your brand.
Spring is a great time for a new labeling campaign, and a good prelude to still more changes in summer, autumn and winter as preferred makeup styles shift with the seasons again. When you work with an all-digital printer such as Lightning Labels, you get the benefits of fast turnaround times and low minimum order sizes. This means you can set up new campaigns for every season without dealing with expensive waste and leftover labels. Your cosmetic brand can take on optimal new looks every few months.
Request your FREE instant quote today.