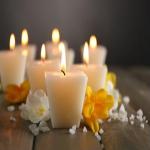 It's important to ensure your products have labels that suit the way they are used, especially when that means frequent exposure to harsh environments.
Just as the custom labels on bath and body products must be waterproof to stand up to water and oil exposure, candles need heatproof labels that will remain safe when exposed to high temperatures. A candle container is regularly exposed to extreme heat, calling for the use of tough materials and safety warning information.
Heatproof Labels for Safe Candle Packaging
Selecting the right material for any product label is important, doubly so when dealing with candles. Heatproof and flame-resistant high-temperature labels are an important starting point for candle labels, to make sure you aren't introducing an additional hazard into buyers' homes. While other details of your candle labels will change based on the size and shape of the packaging involved, this level of endurance is non-negotiable.
Your candle's heat-resistant labels need to be heatproof not just to prevent them from becoming a fire risk, but also to ensure they stay legible through repeated use. The heatproof stickers on candle jars provide usage instructions and safety warnings, alongside your company's branding, and this text should be clear through the product's whole lifespan.
Candle Safety Labeling: Industry Regulations
Candles are among the products regulated by voluntary standards set down by the Consumer Product Safety Commission. The most recent round of research from the CPSC came about in 2011 due to the fact that candle-related fires are relatively common, causing more than 100 deaths in a three-year period at the turn of the century. There are performance standards that vary by the material and type of candle, and despite the voluntary designation, you should pay attention to these requirements.
The commonly used standards for fire safety labels come from the National Candle Association. If your company is a member of this organization, it will be required to put these warnings on your high-temperature labels but regardless, using them is always a good idea.
The three rules to list on your heat resistant labels, with explanatory pictograms to make their meaning clear, are:
• Burn within sight
• Keep away from combustibles
• Keep away from children
As Armatage Candle Company adds, your labels must also fulfill the requirements of the Fair Packaging & Labeling Act, which apply to all consumer goods. This involves information such as your company's name and address, as well as the net quantity of material in the candle itself. A sticker on the candle's surface or its container should contain these details.
Custom Candle Label Design
Once you've followed the regulations, creating candles that meet fire safety standards and making sure to include appropriate warnings on the labels, it's time for the fun part of custom candle label design. Now, you get to use the rest of your available packaging space to create a visual identity for your brand, combining logos and other imagery on a sticker to make customers take notice. You can use evocative text and visuals that promote the benefits of your candle, from soft light to a pleasing scent.
When creating the perfect custom candle labels, it pays to have a skilled and experienced label printing partner on your side. With a selection of durable label material options available in an endless array of sizes and shapes, Lightning Labels is capable of delivering candle labels, decals and heat-resistant stickers that meet your brand's exact requirements.
Request your FREE instant quote today.