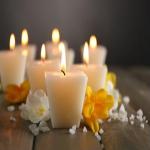 When products are frequently exposed to heat, it's important to ensure that their packaging is safe, and they should have heat resistant labels that will hold up in harsh environments and high temperatures. Product packaging is meant to look great while not posing any safety risk to customers, and meeting these standards is more challenging when heat or open flames are involved.
Candles are some of the most common items that require this kind of specialized high temperature label creation. If you produce candles, a heat resistant label strategy is absolutely critical for your continued success.
Heat Resistant Labels: A Safe Packaging Solution
For candle producers, product labels are a way to convey important information, including warnings and instructions on how to use the product safely. You need to be certain that these printed labels aren't an additional security risk in and of themselves. Your chosen label material, whether a paper derivative or a polymer, must be able to stand up to heat, and be backed by an adhesive that won't weaken when the candle jar heats up.
In addition to not losing their adhesive hold or presenting a fire risk, heat resistant labels on candles should also be hardy enough to stay clear and legible, even when candles are burned many times.
Not only do these printed labels carry your company's branding, but there's also another reason to focus on visual flair: The National Candle Association reports that more buyers are letting candles act as key decorative items in their homes. That means the candles should look great even after repeated use and exposure to extreme temperatures, so buyers will be proud to display them.
Candle Labeling: Complying with Regulations
In terms of actual regulatory compliance in the candle field, there are performance standards for materials in the field. These include a set of voluntary benchmarks created by the Consumer Product Safety Commission.
The most recent update came in 2011, after the four-year average of losses related to fires caused by candles included over 100 fatalities. The rules are designed to ensure the products delight buyers without presenting unnecessary danger, so although adherence is voluntary, following them is important.
Alongside picking the right material, you need to pay attention to the information you print on your heat resistant labels. The kind of security label details you should include is overseen by the National Candle Association, the main industry body that insists its member organizations include warning labels on their products.
The above-mentioned user security label information includes three main fire safety instructions, accompanied by clarifying pictograms. These required directions are:
Burn within sight.
Keep away from combustibles.
Keep away from children.
A safe and secure candle label strategy that meets CPSC and NCA regulations will help your candles make it to store shelves and remain on the market.
Designing and Printing Great Heat Resistant Labels
Once you've settled the important matters regarding safe, heat resistant label materials and warning pictograms, you can get into the graphic design element of labeling. This may involve using colorful imagery or a simpler, text-driven design. Based on your candle jar's shape and size, you may prefer a larger label with more printing space or a small label that lets the wax color show through.
The key to a good design is to give a strong impression of the kind of scent your candle will produce, to make sure the candle will be a good addition to home decor, or both. Since you're using a heat resistant label material, the visual elements will keep looking good for months to come. This will be very helpful when it's time for customers to purchase a replacement candle. Your branding will still be visible, reminding them to stick with the same brand.
Working with Label Production Experts
To receive the highest possible quality custom candle labels, you should work with an expert label printer. Teaming up with an established label creator means you receive access to effective heat resistant label materials, along with other essential services such as graphic design consultation and die-cutting the perfect shape and size for your packaging.
Lightning Labels has produced custom labels for over 20 years, including packaging with special requirements such as high temperature label offerings for candles. By using advanced digital label printer hardware, Lightning Labels allows clients to place flexible order sizes and provides fast turnaround times, ensuring that no matter how many or few heatproof labels you need at any given time, your requirements will be met.
To get started on printing custom labels that will resist extreme temperatures for your brand, request a free quote now.