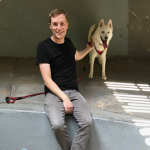 Prepress Technician Joshua Cash joined Lightning Labels in January 2019. Prior to that, he served in both prepress and wide-format label press operator positions in Atlanta.
 The constant through all of it has been his love of skateboarding, along with hiking, cooking and playing video games.
Joshua also has a strong commitment to protecting and expanding city green space. In Atlanta, he volunteered for Trees Atlanta. As a relative newcomer to Denver, "I would love to find an organization like that here that allows me to be give back while being outside," Joshua says.
 For now, however, the health crisis has led to different challenges and choices. He points out, "My girlfriend is a public health scientist, so I've had an interesting perspective on COVID-19 and have watched her career shift in response. Our lifestyle has definitely changed—not being able to hang out with friends, go to bars and restaurants, or travel as often."
He adds, "We normally travel back to Atlanta to see family frequently but haven't been able to recently. We also had a beach vacation canceled, but we have been making the most of it. We typically see a live concert at least once a month and having several shows cancelled or rescheduled has been a bummer this summer."
Mountains instead of the beach
But, there have been silver linings as well. He emphasizes that the cancelled beach trip led to "our first camping trip since moving to Colorado and we really enjoyed it. We've also gotten more adventurous with our cooking at home, and have experimented with growing our own peppers and herbs. I've been reconnecting with old friends through video games and virtual game nights and happy hours. Our dog has been thrilled to have us home all day! The cat not so much."
In this new normal, Joshua and his girlfriend are maximizing time spent outdoors and "hanging out in a hammock somewhere quiet. I also have two nieces back in Atlanta that I try to see or talk to as much as possible via Facetime."
Customer care while at home
Another silver lining has been the smooth technology transition to working from home during COVID-19. He points out, "Our automation system has really been put to the test. It's been cool to see how despite the challenges with changing our workflow, we've seen a lot of successful software development and deployment through this experience thanks to Larin and the coding team," he says.
In turn, that has enabled continued fulfillment of customer expectations reliably. Joshua emphasizes, "My favorite part of my job is seeing a customer's product vision become a reality. I like the process of collaborating with account managers to make that happen. I like the fast-paced work environment and how all members of the Prepress team have their own unique techniques, but we're all working toward the same goal for the customer."
Request your FREE instant quote today.