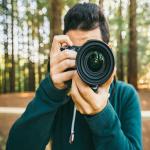 Use High-Quality Photos to Promote Your Brand
May is National Photography Month, which is a great time to begin focusing on the development of more eye-catching and aesthetically pleasing branded materials. If you have made the investment in high-quality photos for your products, don't skimp on high-quality labels to promote your brand. Simple imagery and clip art just won't cut it these days, as consumers are looking for more modern, high-definition pictures and video content.
High-quality photos on the right labels are excellent when trying to transform the brand's messaging and image, and this month could represent a good opportunity to get these campaigns going with interactive marketing tactics.
Get Staff and Customers Involved
Consider asking your staff members - not only those in the marketing and product management teams, but throughout the business - if they would like to contribute to the campaign with their own photography. No one knows your brand better than your employees, and some of them might have an interest in photography, making them an excellent source of creativity and perspective in these types of projects.
On the other hand, customers will also have a good idea of the brand, and getting them involved in the process of gathering photos can further boost engagement between the company and its clientele. You can then use the photos gathered with quality labels to ensure that the hard work put into the photography pays off, and is represented properly in the finished product packaging.
As a note, you'll certainly want to look into custom labels for these campaigns, as getting photos printed on stickers and other branded materials can be a bit tricky. By launching the project in May, you can align it with National Photography Month, and generate a bit more buzz about the campaign and your brand in the process.
Seeing it Through
Brand management teams should be heavily involved in the selection of which images will be sent to the printer for labeling purposes. Once the photos have been selected for the campaign, you can count on Lightning Labels to complete your orders lightning-fast and up to specifications. Lightning Labels offers custom label options on high-quality material to give you the best finished product possible, especially with bigger campaigns such as photography.
Request your FREE instant quote today.