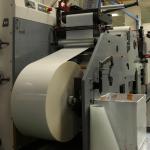 Picking a Suitable Lamination Type
The appearance of a label comes down to more than just the information printed on it. Product labels are defined by the label materials they're printed on - and the lamination types applied to them. When you're planning your company's next order of custom labels, you should consider the method of lamination, as it can help you present a unified look and feel.
Consider Your Options
When you work with Lightning Labels, you have four different laminate options. Each is especially suitable for certain kinds of labels, and picking one over the other can elevate the quality of your product labels. The following are a few of the traits that each of these different lamination styles brings to the table:
• High Gloss: High gloss labels receive the closest thing Lightning Labels offers to a "standard" laminate. It's popular, flexible, and costs the least of any option. It protects your labels to ensure they survive the manufacturing and selling processes, and gives a shiny, glossy sheen that makes products attractive on store shelves.
• Matte: Instead of the shininess of high gloss, matte labels have a different feel. If you're going for a highly modern or more "natural" look for your product labels, this may suit your design better.
• Thermal Transfer: If you use an over-printing thermal transfer printer, this is the laminate for you. While it's designed to work with most of these printers, you should order a sample first to ensure it suits your needs.
• UV Outdoor Gloss: This laminate is the toughest option we at Lightning Labels offer. When combined with a vinyl label material, it makes sure your products will be safe and sound in the great outdoors. The UV resistance that gives the finish its name is designed to ensure the sun doesn't wither your products' labels.
A Label for Every Occasion
The mix-and match quality of materials and laminates at Lightning Labels ensures your products will always have the look they need. From cast gloss labels for the wine industry, which combine a paper base with a high-gloss finish, to Recycled Kraft Labels that aren't laminated at all, there is a combination to suit every brand. Lightning Labels is committed to delivering these customized labels in a quick and efficient manner, printing at domestic facilities instead of outsourcing and using all-digital processes to keep minimum orders low. You can give your products the labels they need in a hurry, to ensure that they look great on store shelves, with consistent branding topped by the right laminate.
Request your FREE instant quote today.