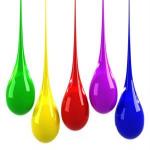 Your small business needs labels for its products. You have options about where to turn when it's time to print packaging. One possible path is to purchase your own in-house hardware, such as Kiaro printers, and produce labels on demand. Alternately, you could work with an experienced third party to meet your packaging needs.
Choosing Your Labeling Approach
When you work with a labeling service provider, you get access to that company's equipment. This can include the latest and greatest digital HP printers, capable of working with the materials, sizes and shapes your company prefers for its packaging. Today's HP Indigo presses offer exceptional fidelity and flexibility.
Using Kiaro or other brands' in-house printers means having to purchase the hardware and label stock yourself, and devote time and effort to label reaction.
In addition, when thinking of third-party and internal label creation as a battle of HP vs. Kiaro printers, you can consider the customer support and assistance that come with external printing. Lightning Labels' team is always on hand to answer your questions and ensure you are satisfied with your product labels.
Staying Ahead of the Labeling Curve
Once you've found a reliable packaging ally such as Lightning Labels, and begun to see the benefits of printing externally, you can maintain that relationship over time. Whenever a new product or redesign project rolls around, Lightning will be there for you.
Request your FREE instant quote today.