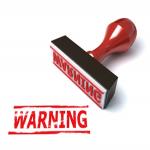 National Safety Month is Just Around the Corner
June comes with many associations, including the first official day of summer, the last day of school and the end of the second corporate quarter, but did you know it's also National Safety Month?
National Safety Month is an annual National Safety Council initiative intended to mitigate accidents in the workplace, at home, on the road and elsewhere. This year, the council is placing a particular focus on transportation safety, emergency preparedness, prescription painkiller abuse, ergonomics and slip, trip and fall prevention - all areas in which cautious behavior can be quickly, easily and effectively reinforced through the use of stickers and labels.
Promoting Safety is Easy with Custom Labels and Stickers
It may seem hard to believe that something as small as a sticker could have such a big effect on safety, but the fact is that custom labels are a key component of accident prevention. Take three of this year's focus topics as an example:
Emergency preparedness: In emergency situations, labels can literally mean the difference between life and death. Consider the instructional stickers on the side of a fire extinguisher, for instance. Even if people think they know what to do when disaster strikes, chaos and stress may result in them swiftly forgetting some - if not all - of their knowledge, which is where labels can become invaluable.
Slip, trip and fall prevention: It's possible to slip, trip or fall almost anywhere, but many of these types of accidents are preventable. Luckily, labels and stickers can be affixed to practically any surface, serving as an effective way to give people a heads-up about potentially dangerous situations and warn them to be cautious of hazards such as uneven ground, unexpected stairs, slippery floors and more.
Transportation safety: According to figures from Statista, some 254 million passenger cars, motorcycles, trucks and other vehicles were registered in the United States in 2012 alone. For people who don't have their own modes of transportation, don't feel like driving, want to save money or are concerned about the environment, buses, trains, ferries and the like are their go-to options. Whether individuals personally operate the vehicles they use to get around or trust others to drive responsibly, it's important for whoever is at the wheel to be able to quickly and clearly identify different components.
Stickers and Labels: An Easy and Inexpensive Way to Encourage Safety
Although large corporations have the funds to invest in thousand- or even million-dollar safety initiatives, many smaller companies do not - but that doesn't mean the latter enterprises should be excluded from National Safety Month. There are plenty of ways to advocate for safety without breaking the bank, and installing or updating cautionary labels and stickers is one of the most inexpensive. If you're looking to get in on the action this June, contact Lightning Labels.
Request your FREE instant quote today.