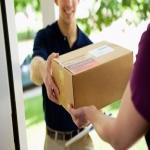 When your products arrive on customers' doorsteps, what is the first detail those buyers will notice? This is an important consideration for companies of all kinds today, due to the increasing use of e-commerce as a primary sales channel.
People encounter brands via potentially generic-looking shipping boxes or envelopes. You can make these mailers more exciting by adding customized shipping labels.
E-commerce is Dominant
Selling via the internet has opened up small companies to the world, allowing businesses to reach consumers everywhere. This has come at the expense of in-store experiences, where bright and colorful packages had a chance to catch eyes. Getting your brand's personality across via packaging labels, however, challenges the status quo.
Think about the iconic digital retail brands - the Amazon arrow that looks like a smile is a clear identifier of the company, as is the blue shade of a Walmart box. Connecting with your audience via custom shipping labels is a way to make your products more discernable and memorable, which is important in such a choice-intensive retail climate.
Get the Labels You Need
Since business moves quickly, there's no time to waste when it comes to revamping your labeling strategy. Reach out to Lightning Labels today for shipping labels that will take your brand's imagery onto customers' doorsteps.
Request your FREE instant quote today.