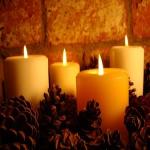 Candles make great gift items: They add light and warmth to people's homes, and during the chilly winter months, they are a wonderful to have around the house. If you make these products, however, you have to be aware of the need for warning labels. Due to their open flames, candles being used improperly put people at risk. Candle warning labels help you keep your customers safe.
Don't Just Go With Any Label
Labeling candles as though they were an average household product is a mistake. These products get hot, and labels that aren't designed to resist heat, or even open flames, aren't acceptable. This forces you to focus on the materials and finishes used in your brand's labels. Once you're sure your chosen material won't suffer when exposed to heat, you can focus on design elements such as required warnings and appealing imagery. Candle labeling is a mix between required safety info and customer-pleasing elements.
Warning labels for candles in the U.S. market are governed by ASTM International, with input from the National Candle Association. There are currently six standards candle makers should be aware of. The modern set of regulations began in 1997, in response to candle fires. Ensuring brands obey these rules is an important way to keep people safe, and to ensure that candles remain pleasant gifts rather than home hazards.
Work With The Right Partner
Businesses need labels for candles that meet all relevant standards while still looking good. This is where third parties such as Lightning Labels come in, offering durable materials that stand up to fire and heat. With high-quality digital printing, it's possible for labels to contain all the information required by standards bodies while still looking great on shelves.
This winter, your candle products can light up homes on festive occasions or cold evenings. In this industry, safety comes first, but it doesn't have to come at the expense of branding - you can have both.
Request your FREE instant quote today.