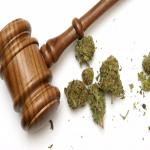 Delta-8 THC products are a special category within the cannabis space. In some parts of the country, these items are brought to market based on different rules than standard medical marijuana or recreational cannabis offerings.
Delta-8 cannabis products are being sold based on a provision in the 2018 Farm Bill which famously decriminalized hemp growing. As Hemp Industry Daily explained, there is a great deal of confusion at the state level as different regions take divergent approaches to conflicting regulations.
So, the question remains: Is it legal to sell delta-8 THC items? The answer differs based on state and on legal interpretation.
The emerging delta-8 picture
As law firm Partridge Snow & Hahn LLP recently explained, the confusion around delta-8 THC's legal status comes from the fact that this cannabinoid is usually created synthetically out of cannabidiol (CBD). Proponents of delta-8 sales say the 2018 Farm Bill's legalization of hemp derivatives covers this substance. Opponents cite a Drug Enforcement Agency interim final rule around synthetic cannabinoids.
Partridge Snow & Hahn notes the conflict between the two laws. Under the farm bill, hemp is no longer a controlled substance. According to the DEA ruling, synthetic cannabinoids are class 1 controlled substances.
It appears that the Food and Drug Administration (FDA) does not expressly ban delta-8 sales. The FDA does now have power to regulate cannabis and related products, and will have to give pre-market approval to delta-8 THC goods.
There is a further question: Does the FDA Drug Exclusion Rule, which stops items from being marketed as foods or supplements if they have been investigated for release as a new drug, apply to delta-8 THC products? Partridge Snow & Hahn stated that it appears that regulation does not apply, as there are no investigations of delta-8 goods by the FDA.
Some states enact bans
States have begun to react to the confusing legal picture. Unfortunately for businesses that want to start selling delta-8 goods freely, the main reaction has been to ban or limit sales.
As Hemp Industry Daily reported, at least 11 states have banned or limited sales of delta-8 goods, while approximately five more are considering these types of laws. In some cases, such as in Illinois, regulators have called for more control of the way the items are governed and sold. In places like Oregon, the issue is a desire for more research. In still more, including North Dakota, there is a proposed blanket ban on delta-8 in a bill under consideration.
Washington state's ban is an interesting case, as it is temporary and designed to allow for more study of whether the goods are federally legal. The state legislators also want ways to enact testing rules, as exist with more standard cannabis products, with limits on the potency or concentration of psychoactive substances
The patchwork picture may be even more fragmented than the already-complex web of legalized cannabis laws across the country.
Production and labeling of specialty cannabis products
The safest way to ensure your dispensary or other cannabis business is operating within the law is to receive clear state approval for the products you're hoping to sell. As the U.S. Hemp Authority's Marielle Weintraub told Hemp Industry Daily, sellers of delta-8 THC or any other synthetic cannabinoids should be licensed and approved marijuana businesses.
When it's time for your cannabis producer to add a new product to its lineup, you'll need compliant labels that line up with the latest state regulations and contain relevant features such as sequential numbering, QR codes and barcodes for identification.
You can get the ideal custom labels for your purposes from Lightning Labels, an experienced provider of labels and stickers for the cannabis industry.
Request your FREE instant quote today.