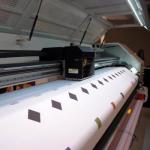 When you're planning to create new custom labels for your products, what should you look for in a label production partner? There are a variety of different traits that set label printing organizations apart, but one of the most important is also one of the simplest: What type of label printer equipment does the company use?
Digital label printing is a different process than flexographic label production. While the technical details that set these two types of label manufacturing apart could seem small or academic at first, they have a real impact on the bottom line. That means it's worth making the comparison before you settle on a label production partner.
What Digital Label Printing Means
Digital printing is a newer label manufacturing method when compared to flexographic printing. The easiest way to understand the two processes is to compare them.
In flexo printing, label artwork is placed on film, which the printing company uses to generate plates. Those plates are loaded into the printing press, and they stamp out the finished labels.
Digital printing is more like a giant version of a home inkjet printer, scaled up to professional size and quality. The label designs are fed to the digital label printer as digital files, allowing label printing to commence at once.
The extra step of flexographic plate creation is the main difference between these methods, and it's a critical one. The time and effort it takes to create plates and calibrate a printer to use them add complexity to label printing, and they may be especially wasteful when executing a short-run print job. They also limit flexibility — creating a plate means that the information on the plate is what's going on each label, without variations.
Speed, Flexibility and More: Digital Label Advantages
Lightning Labels uses digital label printing methods. This is because we're committed to giving customers the best possible custom label experience, and believe digital presses provide the best way to reach this goal.
What kinds of benefits do you get from specifically working with a digital label manufacturer?
Impressive turnaround times: Removing plate creation and flexographic press calibration from the equation allows digital label printer systems to work more quickly. A digital printer can sometimes turn around four complete print jobs in the time it takes to set up a flexo press.
Flexible, variable content: When it's time to print labels with different information on each — for example, when creating consecutively numbered products or producing personalized labels with names on them — digital printing is the obvious option. Since printing is done from digital files, not physical plates, it's simple to create unique labels in the same batch.
Reduced costs: There are a variety of costs associated with flexographic printing that doesn't apply to digital jobs. This includes an extra charge to produce a plate, perhaps over $100 per design. The fact that each new job requires new plates also incentivizes buyers to purchase only large batches of labels with flexographic printing. If you want to order only a few labels, digital printing prices can be just as affordable for small orders as large ones.
High-quality finished products: Digital production methods enable high-resolution printing with impressively deep and vibrant colors. The HP Indigo digital presses used by Lightning Labels support printing resolutions of 230 line screen, while flexographic presses tend to deliver between 133 and 150 line screen.
Using custom labels that will show your products at their best should be a high priority. After all, product packaging is the last thing a customer inspects before making a purchase. To ensure your brand always puts its best foot forward, you can choose digital label printing.
Work with the Best Digital Label Manufacturer
Once you've decided to go with a digital label printing partner, you then have to decide on the specific company that will help your brand the most. You can select a business that will provide a smooth ordering experience, along with capabilities in addition to digital label printing.
Lightning Labels offers a suite of ways to help your brand express its identity. For example, the wide variety of label material and label finishing treatment options allows you to choose a distinctive look and feel for your product packaging. These include sustainable labels which can demonstrate to your customers that your company cares about the environment and is committed to its stated corporate values.
The digital presses used by Lightning Labels are capable of producing roll labels that are strong enough for machine application, as well as sheet labels that are useful for hand application in small batches. Alongside all of these technical traits, Lightning Labels delivers hands-on customer care and a wide variety of service offerings, starting from design consulting and extending through easy reorders.
Ready to see how optimized digital label printing can boost your brand's packaging strategy? Request a free quote today.