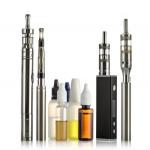 The vaping and e-cigarette spaces are saturated with new products and brands coming to the forefront. To make a name for your own goods, you will have to find a way to catch customers' eyes among a host of competitors. Whether you're a startup just beginning operations or a more established name considering a visual refresh, changing up your product labels can drive this type of breakthrough to your audience.
Companies have had to spend the past few years reconsidering their approach to vape labels due to the fact that the Food and Drug Administration has clarified its oversight of these products. As long as items include tobacco, nicotine or both, they are under the jurisdiction of the FDA in the same category as cigarettes. This means new changes to labeling strategies have to be made with these regulatory musts in mind.
What is the Latest on Vaping Legal Changes?
In early 2020, government enforcement has included changes that require new premarket authorization for vaping products, especially e-liquid cartridges, possessing a flavor other than plain tobacco or menthol, taking previously released versions of these products effectively off the market. This is meant to stop the sale of items that may appeal to children, while the FDA noted that it is not necessarily banning these items, and will reauthorize them on a case-by-case basis. The policy is coupled with raising the age of purchase to 21.
It is clear that creating new products to fit in with FDA regulations is the first step in creating a successful vape brand. From there, you can step up your efforts to compete with other providers and stake out a place in the industry.
What's in the FDA Regulations?
When you're submitting a vape product for FDA approval through the Premarket Tobacco Product Application (PMTA) system, you have to include an indication of how the packaging will look. This is to ensure you meet all the requirements regarding truthful advertising and marketing, as well as the laws around health and safety warning labels. The government agency wants to see "all proposed labeling" for the new product, including the primary vape label and any inserts or materials that will come along.
As for the text of these labels, you need to truthfully reflect the contents of the package and include the standardized tobacco warning labels that now apply across all categories of items, namely about the addictive risks of nicotine and the dangers of nicotine exposure. There should also be clear use guidelines. The FDA prefers its applicants to use clearly legible fonts and simple text formats, such as bullet-pointed lists. Identification and traceability data such as expiration dates, batch numbers and bar codes are also important parts of a label.
When verifying what to include on vape labels, you should also be clear on what not to include. This, according to the FDA's early-2020 regulations, includes imagery that seems to target a young audience. Colorful designs that emulate foods or beverages commonly marketed to children are therefore out of the question. Youth-friendly characters on packaging are similarly not allowed. Fortunately, there are plenty of marketing strategies that take a different approach to appropriate audience appeal.
What is the Key to Great Vape Labels?
When designing a vape label, the branding and imagery have to come second to the safety and regulatory considerations. This does not mean you should give up on giving your packaging a bold look, however. After all, you will have to contend with countless other producers to become an industry-leading brand. The DesignCrowd blog's overview of examples demonstrates the range of options you can pick from when creating e-liquid bottle labels.
The ban on youth-skewing imagery means your default for label contents and logo design should be dignified and potentially minimal. An outline or abstract shape may be a good centerpiece for your design. As with many other product categories, a minimal color palette of little more than black and white may serve to create a striking effect. This may serve the dual purpose of giving the e-liquid a modern style while clearly steering away from the colorful hues forbidden by the FDA.
Your choice of typeface can also go a long way to define your items in customers' minds. Narrow, minimal lines or bold chrome block letters can help the products look distinctive on shelves, and continuing the branding across many flavors and varieties can give your items a shared identity. The constraints around label design can serve as fuel for your creativity, allowing you to mark territory for your brand while including every necessary feature for legal compliance.
Why Should You Work with an Expert Labeling Partner?
When you're working in a field as heavily regulated as e-cigarettes, with ever-changing legal requirements to meet, it pays to have access to a labeling provider that can work quickly and precisely, giving you the labels exactly as described on short turnaround times. It is also valuable to seek out a partner that is capable of fulfilling orders of any size. Being forced to buy more custom labels than you need at the moment may leave you with unusable stock in the event of another regulatory change.
Lightning Labels has spent years providing product labels for companies in numerous industries to ensure they are putting visually appealing items on shelves. By using all-digital printing processes, Lightning Labels is able to offer the speed and flexibility that are so important in regulated industries such as vaping. While refreshing your vape labels to reflect the new regulations and norms, you can also enhance your brand's visual identity.
Request your FREE instant quote today.