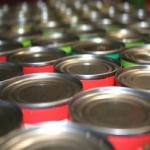 Designing the perfect custom labels for your products is an important part of either launching a new item or refreshing your brand in the eyes of consumers.
While a great deal of the creation process will involve graphic design considerations, you shouldn't underestimate the importance of picking a product label material. This is one of a number of decisions you'll make on the path to finalizing your design, along with whether your quantity of products is better suited to sheet labels or roll labels, and which finish treatment and adhesive to use.
What Product Label Materials Are Available, and What's the Difference?
When you work with a custom label provider, you have a few categories material to choose from.
Continue reading »