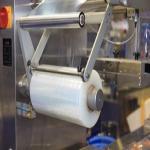 If you're launching a new product, you have to design and create a label. Plenty of steps go into getting the label just right and you shouldn't overlook any of them. For instance, you can significantly improve the appearance of your item's packaging by taking the time to select the perfect label material.
Label Materials - Match Your Product Labeling Needs
There are an impressive variety of label materials on the market, each with its own functional niche. This means one way to pick your perfect label material is to match your choice with your needs.
For general tough packaging needs, try: White or clear polypropylene labels
The versatile BOPP label material is a perfect choice for retail goods of all kinds.
Continue reading »