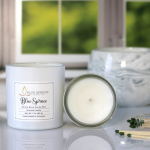 Coloradan Cheryl De Roia founded Blue Spruce Candles to honor the state tree and provide stress relief through candle aromatherapy.
Prior to starting Blue Spruce, Cheryl worked for 15 years as a special education teacher committed to creating an inclusive and soothing environment. She donates a portion of her proceeds to the Special Olympics.
Inspiration for the company came while at home with her young daughter.
Continue reading »