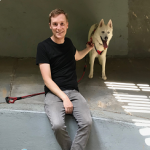 Prepress Technician Joshua Cash joined Lightning Labels in January 2019. Prior to that, he served in both prepress and wide-format label press operator positions in Atlanta.
The constant through all of it has been his love of skateboarding, along with hiking, cooking and playing video games.
Joshua also has a strong commitment to protecting and expanding city green space. In Atlanta, he volunteered for Trees Atlanta. As a relative newcomer to Denver, "I would love to find an organization like that here that allows me to be give back while being outside," Joshua says.
For now, however, the health crisis has led to different challenges and choices.
Continue reading »