Spruce Up Summer and Fall Marketing with Custom Window Stickers
[caption id="attachment_7671" align="alignleft" width="300"]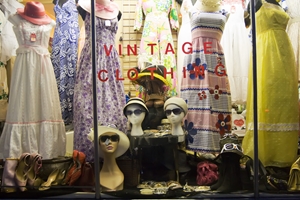 Storefront windows are a great place to put static cling decals and custom window stickers.[/caption]
Boosting your outdoor marketing tactics with custom window stickers is one of the best ways to take advantage of warm weather this summer and into the fall. During the warmer months, people are out and about frequently, whether they're shopping, taking walks, heading out for an outdoor activity or going on long drives. With clear weather on your side, there's no reason not to reap the benefits of summer and fall with window stickers that catch consumers' eyes. Whether you're trying to spread the word about your brand or get more shoppers into your stores, custom window decals for cars and stickers for building windows are sure to get a business or organization more attention.
Custom Static Cling Decals: the Right Choice for Marketing Needs
Before we jump into the tips and tricks for designing custom static cling decals that command attention, let's consider the benefits of using choosing stickers that are both attractive and long-lasting. Lightning Labels' window decal offerings include stickers that look and feel like traditional static clings but instead feature a removable adhesive that makes reusing stickers a cinch. In addition to being easy to take off surfaces, these labels actually stay in place once you've removed and reapplied them. Lightning Labels' custom static cling decals also don't leave behind that icky residue you'll get with other window stickers.
3 Ways to Make Promotional Custom Window Decals Stand Out
When it comes to designing custom window decals, the possibilities are endless. Here are three ways you can create decals that attract customers and promote your brand:
1. Add Some Color to Your Custom Stickers: Digital label-making provided by Lightning Labels gives users a seemingly infinite supply of colors to choose from. While you'll likely want hues or tones that stand out, you may want to choose a design that reflects your brand, incorporates any color coding you use for sales or celebrates an upcoming holiday. Another way to use colors effectively is to embrace the theme of your store's neighborhood or city. For example, if your business is located on or near a college campus, you can use the school's colors in window decals to attract students and other residents.
2. Choose Window Decal Text Wisely: The right wording, font type and text size are extremely important when designing a custom sticker. First, consider who will see the sticker and when and where they'll see it. If the decal is being placed on vehicles, it's a good idea to choose shorter phrasing and place the words in a font that is large and legible from far distances. No matter where your stickers are going, you may want to consider using active, punchy language that gets your point across in as few words as possible.
3. Get Creative with Images: Thanks to digital printing, it's easy to place a brand logo, illustration or even a photo on stickers and decals. Just as with choosing the right text, it's important to select an image that is distinguishable from far distances and can be understood with just a quick glance. For more design tips, download our free white paper, "6 Easy-to-Follow Tips to Make a Statement with Colorful Custom Labels and Stickers," accessible from Lightning Labels Facebook page.  These expert printing tips can be applied to custom window stickers and decals to enhance marketing and branding.
Request your FREE instant quote today.