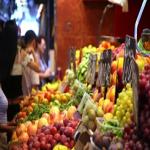 Study Finds Men May Not Read Labels of Food Products
Many customers have begun to look at the labels of food products to understand what they are consuming. However, there may be a difference between how women and men read nutrition labels. A recent study by the University of Alabama asked 573 males and 809 females between the ages of 19 and 70 about how frequently they read food labels. The study reported women utilize food ingredient stickers to make healthier decisions more often than men.
The study was published in the Journal of the Academy of Nutrition and Dietetics and the May issue of the Journal of Nutrition & Food Sciences.
Food Sticker Labels Under Female Scrutiny 
Health claims and the nutrition facts on food sticker labels are read more often by women than men, according to the study.
For Phil Lempert, founder of the Journal of Nutrition & Food Sciences, the findings correspond with his previous opinion regarding how females and males differ regarding their healthy choices.
"This isn't a huge surprise," Lempert said. "But this reinforces that manufacturers and retailers should make labels, advertising and merchandising clear, concise and easy to read so that people can make informed decisions."
Request your FREE instant quote today.