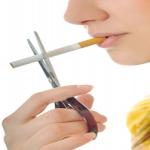 Harvard Research Shows Graphic Image Labels Effective
Most consumers are familiar with product safety labels that carry text warnings from the surgeon general or some other government official. Smokers especially would recognize such labels, but they may have to get used to a different sort of label, as new research has found graphic images on cigarette packages are more effective than words.
The Harvard School of Public Health recently conducted research on smokers' reactions to text and pictorial warning labels on tobacco packaging. After gauging the response of 3,300 smokers, the study found that "hard-hitting" images on warning labels were more impactful, credible and likely to curb the habit than text-only labels.
Terse Fight For Labels Although the school's research did lend credence to the effectiveness of graphic warning labels, regulators will have a difficult time instituting such labeling requirements. The U.S. Food and Drug Administration had previously approved a set of pictorial labels, only to see the Big Tobacco lobby exert its force and throw a wrench in the plans.
Late last year, a U.S. Court of Appeals in Washington, D.C., denied a request by the federal government to reconsider a decision blocking the required graphic warning labels. The decision halts the FDA's plans for now, but the agency has indicated it would pursue further action to implement the label system.
Request your FREE instant quote today.