Fast Label Printing for Last-Minute Holiday Labeling
[caption id="attachment_8070" align="alignleft" width="300"]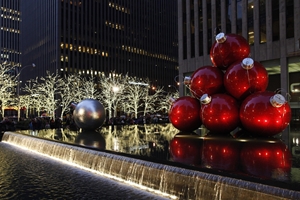 It's not too late to take advantage of fast label printing for holiday gifts.[/caption]
If you have yet to embellish your products with holiday-themed labels, partner with Lightning Labels for fast label-printing services to get your items shelf-ready in just days. Our advanced printing technology and rapid turnaround can help you get decorative labels in time for the peak of the holiday shopping season.
While it may feel like the Christmas gift-buying season begins earlier every year, many people wait until the last minute to purchase items for their loved ones, friends and colleagues. In fact, according to the National Retail Federation, 16 percent of shoppers don't begin buying presents until the first two weeks of December. Many don't start shopping until the second half of the month.
December can be a very profitable time for businesses large and small, especially ones that capitalize on the marketing opportunity with decorative labels that make their items stand out. Once you have a holiday design in mind for your product packaging, Lightning Labels' high-speed service can provide you professional, eye-catching labels to help your items sell this holiday season.
3 Tips for Creating Labels for Christmas Gifts
Lightning Labels is giving businesses the chance to make last-minute labels for Christmas gifts with fast label ordering and high-quality labeling solutions. To help you get started on your decorative labels, here are three design tips:
1. Use Impactful Language on Gift Labels: Depending on who you're targeting, your product may perform best if your gift labels contain humorous language, like puns or plays on words. For more elegant products, craft product descriptions that are short and feature vivid language. Using different fonts and colors can also make the wording on your labels stand out. Lightning Labels' printing technology ensures all text on your labels, large or small, is clear and legible. Additionally, our four-color process produces any range of colors, from bright and bold tones to pale and soft ones.
2. Don't Skimp On Quality: When you order gift labels from Lightning Labels, you don't have to sacrifice quality for speedy service and affordability. Our advanced printing and customizable labeling solutions ensure every aspect of your design is printed perfectly on distinctive label materials. No matter how quickly you're creating labels, make sure they look professional and attractive.
3. Consider a Durable Label: When it comes to , if you sell foods, beverages or body-care products, you may want to choose a material that is resistant to water and oil. Lightning Labels' durable materials can protect your label design from leaks, spills, water condensation and more, ensuring gift labels maintain their holiday cheer wherever your product is used.
Request your FREE instant quote today.