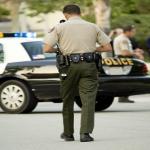 Montgomery Businesses Call for Anti-Gun Stickers
Business owners in Montgomery County, Ala., have ordered more than 3,000 anti-gun stickers through the local sheriff's department to let patrons know about their establishments' firearm policy.
The move to acquire and post these stickers on store and office doors has been prompted by the recent passing of a local law mandating that businesses cannot prohibit loaded guns on their property as long as they remain locked in a car, AL.com explained.
"We have requests for literally hundreds of them," Montgomery County Sheriff D.T. Marshall told the source, referring to the anti-gun stickers.
Marshall stated business owners are worried the new legislation will encourage people to enter their stores or offices with weapons.
Outdoor Stickers Prohibiting Guns May Encourage Safety While Marshall and Montgomery Police Chief Kevin Murphy told the news source they don't think the new gun law will impact their community significantly, the outdoor stickers are expected to make business owners feel safer.
The sticker features an illustration of a handgun with a red circle and diagonal line over it. The sticker also includes text stating "No firearms or weapons permitted on this property," as well as additional wording about the penalties of violating the rule.
Request your FREE instant quote today.