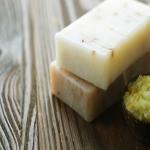 Facebook Voters Crown Label Contest's Top 5
Back in May, we announced the kickoff of our fourth annual label contest and invited our customers to show off the product labels and stickers they printed with Lightning Labels. Once the submission period closed, fans of Lightning Labels on Facebook were encouraged to vote for their favorite product photos.
With each entry more compelling than the last, there was some stiff competition, but voters were ultimately able to whittle down the options to five winners.
Scentsational Soaps Claims Grand Prize in Image Contest
Scentsational Soaps of California came out on top in our image contest and took home the grand prize - a Canon EOS Rebel camera.
When she founded Scentsational Soaps back in 2007, Toushonta Hogan's wares were limited to glycerin soaps. Eight years later, she has transitioned into an expansive range of offerings that includes cold-pressed soaps, bath salts, body butter, sugar scrubs, candles, body mist and body souffle. Each product comes with a vivid label that describes the item not just with words, but also pictures. For instance, Scentsational Soaps' Caribbean soy candle label features palm trees backlit by a beautiful sunset, printed in vivid color by Lightning Labels.
Candle-Makers Seize Second, Third Places in Lightning Labels Photo Contest
Milwaukee Candle and Apothecary of Wisconsin, which won second place in the Lightning Labels Photo Contest, was awarded a 40-inch high-definition flat-screen TV. Meanwhile, third-place winner Art Scents of Hawaii got a Kindle Fire HDX.
Like Scentsational Soaps, Milwaukee Candle's wares are more expansive than its name would suggest. In addition to candles, the company sells lip balm, aftershave, soap and more, all elegantly packaged by labels featuring refined designs.
Art Scents is another business that sells candles, but with a twist: Every candle features art prints by business owner Chris Neil Conner. What's more, the containers are meant to last much longer than the candles themselves. Durability is a must in terms of this company's packaging, which makes Art Scents the perfect candidate for Lightning Labels' heat-resistant candle labels.
Southern Girl Soapery and Sweet Tea Junkie Earn Lightning Labels Credit
To round out the top five, Southern Girl Soapery of Arkansas and Sweet Tea Junkie of Florida received $500 and $300 in Lightning Labels credit. Southern Girl Soapery's handmade bath and body wares run the gamut from shaving products and bar soaps to body scrubs and creams, each infused with a little slice of the South. The rich colors and elegant fonts featured on Southern Girl Soapery's labels are a perfect extension of the company's brand.
Sweet tea is another staple of the South, and Sweet Tea Junkie celebrates this delicious beverage by selling "tea shirts" and a range of premium, handcrafted blends. The teas' black labels combined with Sweet Tea Junkie's off-white logo and lime green text strike a balance between being refined and eye-catching.
Interested in entering next year's photo contest and potentially nabbing one of these great prizes for yourself? Watch this space for details!
Request your FREE instant quote today.