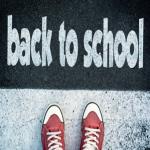 Don't Forget Back-to-School Labels This Shopping Season
This time of year seemed so far away at the beginning of the summer, but for many families, school is already right around the corner. According to research by the National Retail Federation, back-to-school spending has increased by 42 percent over the past decade, and consumers' willingness to spend at this time of year has the potential to affect purchases of small things, such as back-to-school labels and stickers, to laptops, tablets and other big-ticket items. In fact, according to the NRF's Back-to-School Spending Survey, the average family with kids in grades K-12 will spend $630.36 over the course of the back-to-school shopping season, investing in supplies such as folders and writing implements as well as apparel, shoes and electronics.
The NRF went on to note that many families who splurged last year are tightening their purse strings in 2015, determining that much of what they purchased as brand new in 2014 is still in good working order.
"As seen over the last 13 years, spending on 'back to school' has consistently fluctuated based on children's needs each year, and it's unlikely most families would need to restock and replenish apparel, electronics and supplies every year," noted Matthew Shay, president and CEO of the NRF. "Parents this summer will inventory their children's school supplies and decide what is needed and what can be reused, which just makes good budgeting sense for families with growing children."
Need Durable Back-to-School Stickers? Lightning Labels Can Deliver
Although items themselves may be in good enough condition to last for at least another semester, a year of wear and tear can really do a number on the labels that kids use to distinguish their possessions from the similar or even identical belongings owned by their classmates.
This is where back-to-school stickers and labels from Lightning Labels come in. Lightning Labels offers a range of materials and laminates to keep labels durable and vibrant throughout the academic year and beyond, at low minimums that fit into families' back-to-school budgets.
Don't Forget to Add Sports Team Labels to the List
Many kids heading back to school for the fall semester aren't only preparing for classes, but also the kick-off of the fall and winter sports season, which encompasses football, soccer, basketball and more. Sports team labels are a great way for players to not only identify their uniforms and equipment, but also to proudly show off their status as part of the team.
According to the NRF survey, three in 10 families (30.3 percent) with children in grades K-12 will wait until one to two weeks before the semester begins to start their back-to-school shopping. According to Pam Goodfellow, principal analyst with Prosper Insights & Analytics, which conducted the study on behalf of the NRF, parents who put off shopping will use conveniences such as same-day delivery to ensure they get everything they need in time for the first day of school. This can quickly get expensive, but ordering from Lightning Labels is one item on families' back-to-school checklists that won't break the bank. Following proof approval, Lightning Labels can turn around orders within 48 to 72 hours, helping even the most last-minute shoppers slide in under the wire.
Request your FREE instant quote today.