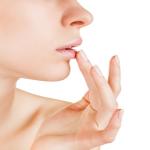 We are proud to announce that it's now easier than ever to get your hands on some of our popular lip balm labels. They're durable, vibrant and now available to order online, not just over the phone or via email. You don't need to pick up the phone or type up a long message anymore - just head to LightningLabels.com and with a few clicks, your personalized lip balm label order will be placed. Just like our name, our turnaround time is lightning-fast: Following proof approval, you can expect a turnaround of just two to three days. In short, if you need your custom labels sooner rather than later, we've got you covered.
3 Great Features of Our Lip Balm Label Product
There's a lot to love about our lip balm label product, particularly the following aspects:
Extended content: Lip balm containers are small, so their labels need to be as well - or do they? Our extended content labels fold out from the container, providing extra space for ingredient panels, directions, warnings and more. You want to make sure users have all the information they need, and we want you to have the space to say everything you need to.
Flexibility and customization: Are you looking to print multiple designs on the same material without incurring extra costs? Do you only need a relatively small number of labels (as low as 50)? Is your brand's color scheme extremely specific? No problem - Lightning Labels can meet those requirements.
Full and partial safety seals: A high-quality lip balm label needs to be eye-catching, durable and in complete compliance with safety standards, which is where our full and partial safety seals come in.
Our Custom Lip Balm Labels Have Staying Power
By its very nature, lip balm is a product that many people keep on or near them a lot of the time, and custom lip balm labels go along for the ride. Think about it: Lips tend to dry out in the heat of the summer, crack in the cold of the winter or need soothing after a lip-bitingly scary movie or a stressful day at work. Lip balm is carried in pockets and purses and stored in drawers and glove compartments, conditions that can all have a compromising effect on label quality. However, that's something Lightning Labels' customers don't have to worry about, as our lip balm labels are resistant to water and oil - not to mention that they're made of our durable BOPP material that won't wrinkle, smudge, peel or fade.
With custom lip balm labels from Lightning Labels, buyers can rest assured that their message will remain crisp, readable and vivid for weeks and months to come. Given how often people handle and use lip balm, there are few better ways to ensure your brand stays at the forefront of these individuals' minds than by emblazoning it on lip balm labels. Why not place an online order with Lightning Labels today?
Request your FREE instant quote today.