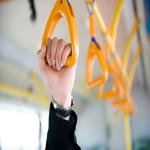 City Institutes Anti-Smoking Product Stickers on Transit
Jakarta, the capital city of Indonesia, recently saw thousands of anti-smoking product stickers stuck on public transportation vehicles and bus stations. According to The Jakarta Post, representatives from the Coalition for a Smoke-Free Jakarta placed 13,000 anti-smoking stickers on public transit. The newspaper reports the Jakarta Transportation Agency and the public health faculty from the University of Indonesia support the measure.
Anti-smoking advocacy has been on the rise throughout the country in recent years, resulting in a protest against a tobacco bill that sought to protect the nation's tobacco industry just last year.
Custom Warning Stickers Placed on Public Transportation in Jakarta  The coalition estimates members will plaster a total of 42,000 custom warning stickers on public minivans and buses as well as 24 public transit stations, according to The Jakarta Post.
Drajad Adhyaksha, secretary for the Jakarta Transportation Agency, told the newspaper that citizens have asked for reminders not to smoke on public transit for some time.
"Many have complained that no measures have been taken to prevent passengers and bus crew from smoking aboard public transportation," Adhyaksha said. "We need this to remind them."
Request your FREE instant quote today.